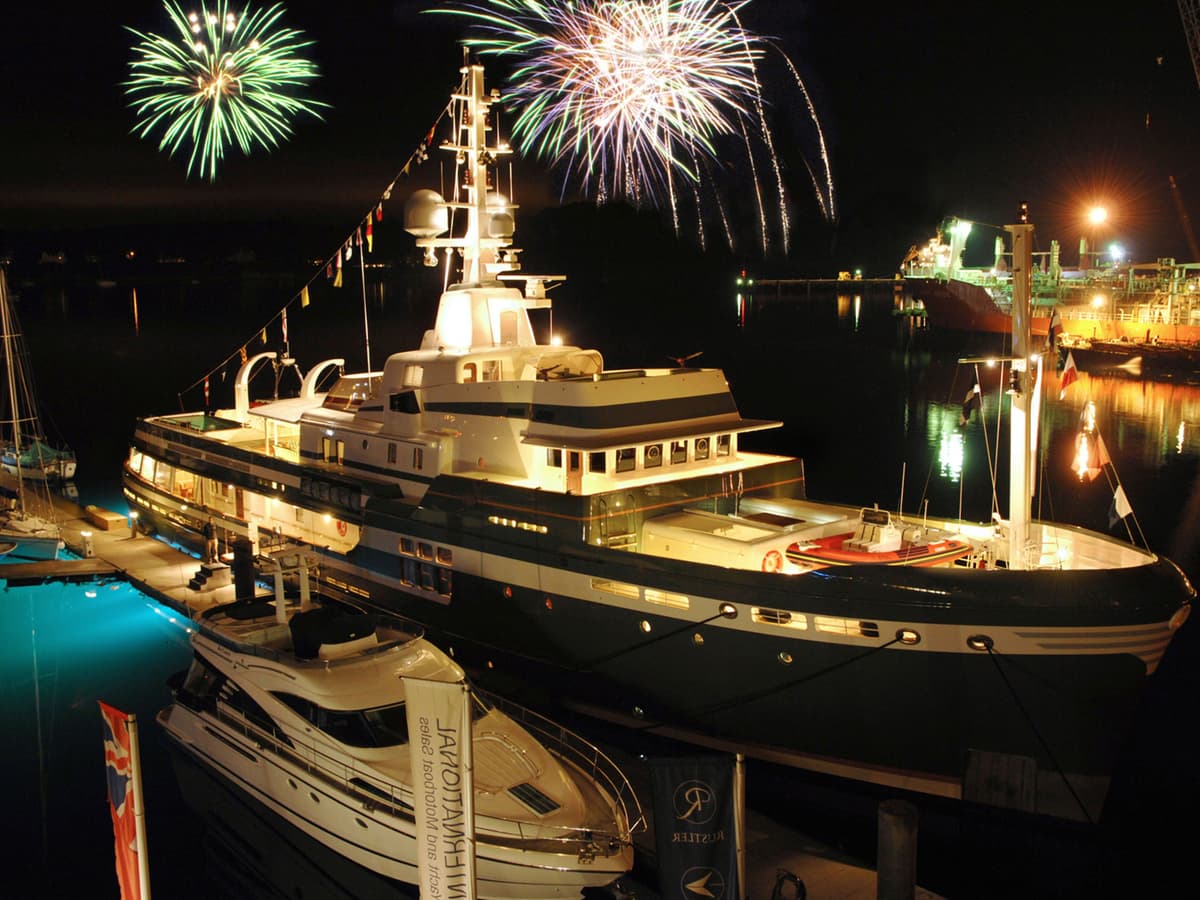 35 years of Pendennis: remembering 2009
As we continue to celebrate 35 years of Pendennis, we're looking back now to 2009.
Following the launch of Steel at the end of 2008, in the February of 2009 more than 380 guests were invited to the official launch party in Falmouth, which was held in the National Maritime Museum. The next day, Steel left UK shores bound for Gibraltar. Speeches were made by Pendennis, the Owner and his team, and a spectacular 10-minute firework display which illuminated Steel and Falmouth Harbour brought the evening to a close.

For many this was the last direct involvement they would have with the long-running Steel project and emotions were high the following day when the yacht steamed out of Carrick Roads, accompanied by the local RNLI lifeboat Richard Cox Scott. Along with Sea King helicopter 771 and Steel's water cannons running at full power in salute of Pendennis, it made for a magnificent departure.
Throughout the year of 2009, we completed the build of Dubois-designed SY Nostromo as well as refits of Adix, Tenaz, Dardanella and Velacarina.
In the summer of 2009, sailing yacht Nostromo was launched, the eighth yacht built by Pendennis from the Dubois drawing boards. Nostromo has since revisited Pendennis in Falmouth and Pendennis Palma for subsequent refits.
Notable refits in 2009 include that of the three-masted sailing yacht Adix. During her 2009 visit Adix underwent scratch and gloss paint work, Lloyd's, and MCA surveys with a major engineering overhaul on her generators and main engines and cosmetic work on her external deckhouses. At the time the 370 tonne three masted schooner was the largest yacht to be lifted out by Pendennis' 400 tonne travel hoist.

The year also featured another update to the yard's facilities – located in the centre of the Pendennis yard, the 'White House' was an invaluable edition to our range of flexible construction spaces, measuring 55m (L) x 17m (H) x 16m (W). It has since been replaced by our 90m and 45m construction halls.