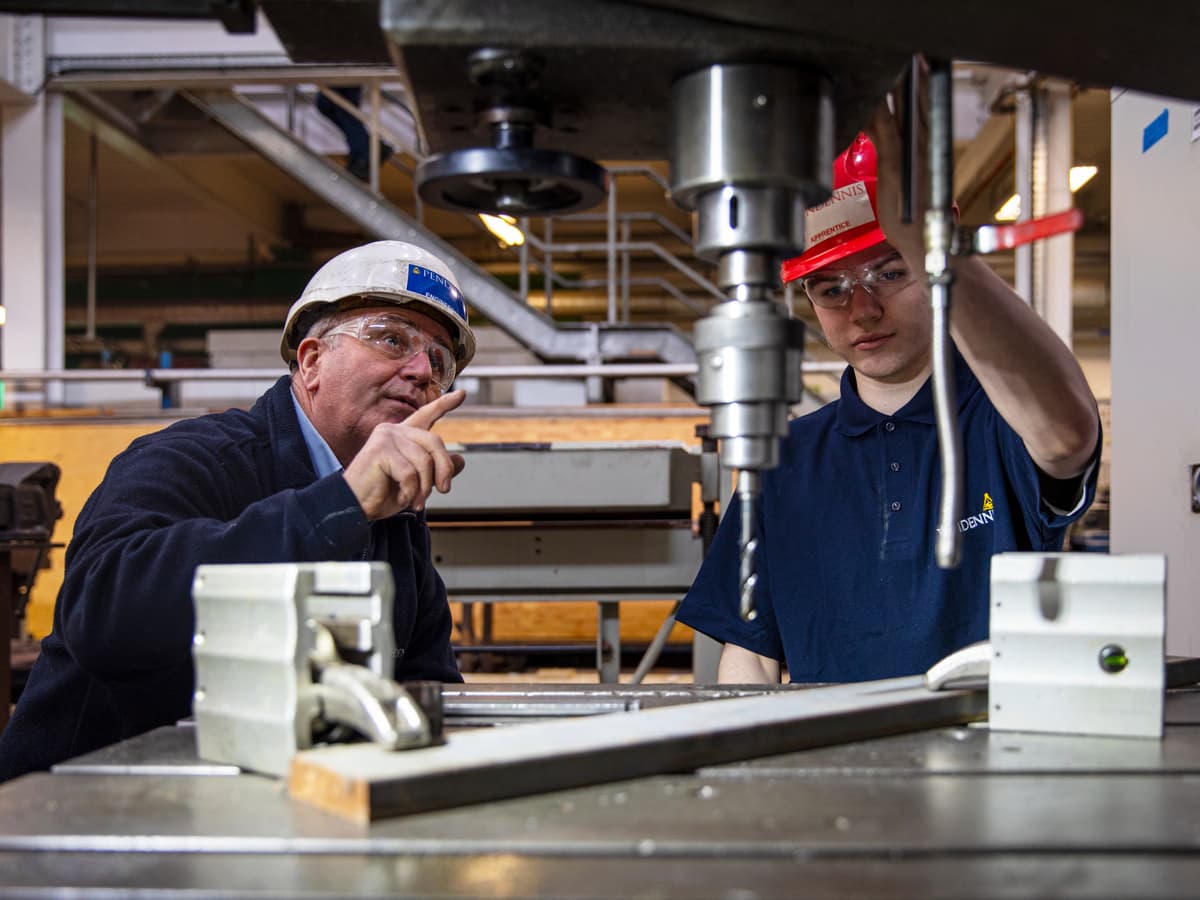 Apprenticeships
Pendennis is very proud of its award-winning apprenticeship scheme, which has trained over 300 young men and women in boat industry jobs over the past 25 years. Through these apprenticeships, we're able to continually develop our workforce, maintaining the world-class standards that we uphold across every custom build or refit.
Just under one third of our current workforce has been trained by the Pendennis apprenticeship programme, including many who have progressed to senior positions such as project engineers, trade, and project managers. From carpentry, woodworking and joinery apprenticeships to marine electrical and plumbing apprenticeships, there's a world of boat building and yacht building careers to choose from.

We'll help you to develop your maritime career and yourself. Join us on an apprenticeship in Cornwall and you'll be taking the first step on a programme that – alongside gaining experience and qualifications – will help you to develop a range of other transferable skills to support your working life.

Your continuous professional development is important to you and to us, and we will help to guide and support your learning as we follow your progression throughout your apprenticeship.
FAQs
What types of apprenticeships do we offer at Pendennis Shipyard?
We currently have three different apprenticeship schemes running:
General Apprenticeship - A bespoke General Engineering Programme, with apprentices specialising in one of our in-house trades.
Yacht Painting Apprenticeship - A four-year programme covering all aspects of yacht finishing, exterior coating, and the latest application technology.
Trade Specific Apprenticeship - A two to four year programme for apprentices with previous experience of apprenticeships or good transferable skills in one of our departments.

How does the apprenticeship scheme work?
Our apprenticeships take place at our Falmouth site and will lead to you to achieving nationally recognised qualifications as well as a bright new career here in Cornwall. Your training will normally be delivered in partnership with local training providers and will meet the new National Occupational Apprentice Standards through vocational and classroom-based learning over a four-year programme.
How can you grow with Pendennis?
Your apprenticeship with Pendennis is an introduction to the world of work and gives you the chance to benefit from an award-winning and world-class programme. As an apprentice you will get competitive rates of pay as you are employed from day one, progressing throughout until you graduate as a qualified Tradesperson. On top of your salary an apprentice will also benefit from:
A Pendennis pension plan
Accredited qualifications
Extra-curricular activities include sailing, Duke of Edinburgh Gold Award & opportunities to attend youth leadership awards and activities.
Annual awards
Community activities
What are we looking for?
Pendennis is about high quality in all that we do and getting an apprenticeship with us may seem daunting, but we would like you to prove that you want the opportunity!
If you are interested in an exciting new career with us there are things that you can do and tell us about to support your application; it's not just about your grades, for example – work experience with an employer, perhaps you might have spent some time here at Pendennis?
Experiences of working in a team, that could include sports teams, Duke of Edinburgh or maybe a project you have worked on, what interests do you have and why? Are you self-motivated and want to learn? If so, we want to hear from you!
How can you apply?
Applications are now closed for our 2023 apprenticeship intake. If you have any questions about Pendennis apprenticeships please contact apprenticeships@pendennis.com.