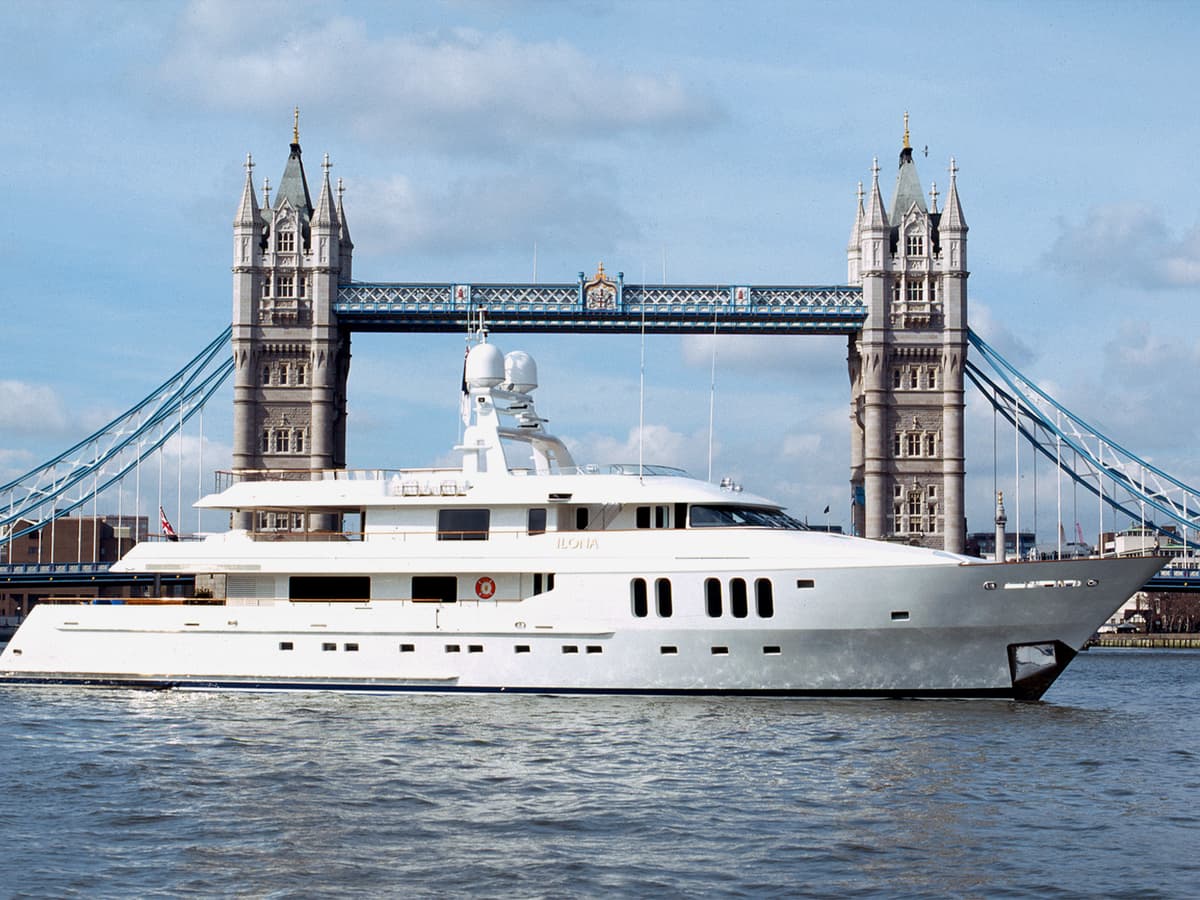 35 years of Pendennis: remembering 1999
2023 marks the 35th anniversary of the founding of Pendennis. As part of our celebrations, we're taking a journey through momentous parts of our history, and today we will be delving into the archives of 1999.

It was full steam ahead right from the start of the year, with the completion of two very different bespoke builds. We launched 42m sailing yacht Rebecca in February, while 46m motor yacht Ilona was undergoing sea trials in March. Trevor Hawken, now our Technical Sales Engineer, was Project Manager of Rebecca's build. He explained:

"We started building the hull in the shipyard in 1997 from a cut package. We built numerous mock-ups to help the Owner decide on the final profile, deckhouse shape, sheer and stern details, including a 1:1 scale model of the transom to stern in timber. We also modelled three different bow profiles – raked, plumb and a more conventional style. Rebecca's library was also mocked up in full scale in the US – complete with bookshelves full of books, paintings, working gas fire and a dining table and chairs – at which the Owner, owner's representative Jon Barrett and Henk even ate dinner in a true test of her design and layout! The Owner knew that he wanted to get her just right – and I think he did."

Rebecca's launch was before the times of a travel hoist – she was lowered carefully into the water down a slipway, and that May took her maiden trip across Europe, visiting the likes of Spain and France. Rebecca returned to Falmouth in May, to then depart again in June, visiting Maine.

Trevor remarked "Even after Rebecca was launched and she had crossed the Atlantic, I followed her around the world to support her Owner and crew, and we actually still do that now under the umbrella of our Pendennis Yacht Support service. What's lovely is that even now, when we sit with the project team and crew, you see some of those same faces that were involved in the build in 1999".
Pendennis' first ever motor yacht build, 46m Ilona, was designed by Dubois Naval Architects and Redman Whiteley Dixon, both of whom have we have developed long-standing relationships with in the years since.

Ilona is the largest aluminium motor yacht ever built in the UK and in the first twelve months after departing Pendennis, she covered 40,000 nautical miles.
A third new build completed in this year was Kenora, which went on to win Best Sail Boat in the 23-36m category at the International Superyacht Society Awards in 1999 as well as Best Sailing Yacht Under 34m in ShowBoats Magazine the following year.

In addition to successful new build completions and refits of superyachts, 1999 was a historic year for us outside of the superyacht realm, with the build of the Lord's NatWest Media Centre at Lord's Cricket Ground. The Media Centre is a truly iconic futuristic structure, fabricated by Pendennis using ship-building techniques. Styled like an aluminium boat hull turned upon its side, we were recruited for the build process due to our expertise in this area, with architectural firm Future Systems leading the design. It was the first all-aluminium, semi-monocoque building in the world.

Some of the fabrication took place at the shipyard in Falmouth, to be shipped up to London, but much of the original assembly had to be done on-site at Lord's. A team of 25 Pendennis staff members lived in temporary accommodation in the Lord's car park for 6 months to complete the build!

The structure was built in time for the 1999 ICC World Cup and was officially opened on April 27th. Upon completion the project was awarded the 1999 Stirling Prize by the Royal Institute of British Architects, along with multiple other architectural awards. Over two decades on, the Lord's Media Centre remains a valuable and iconic structure, successfully hosting up to 250 of the world's media teams during cricket matches.
In the later half of 1999 and going into 2000, notable projects entering the scene included the refit of Fair Lady, restoration of Shamrock V, and a remodelling of Adela.