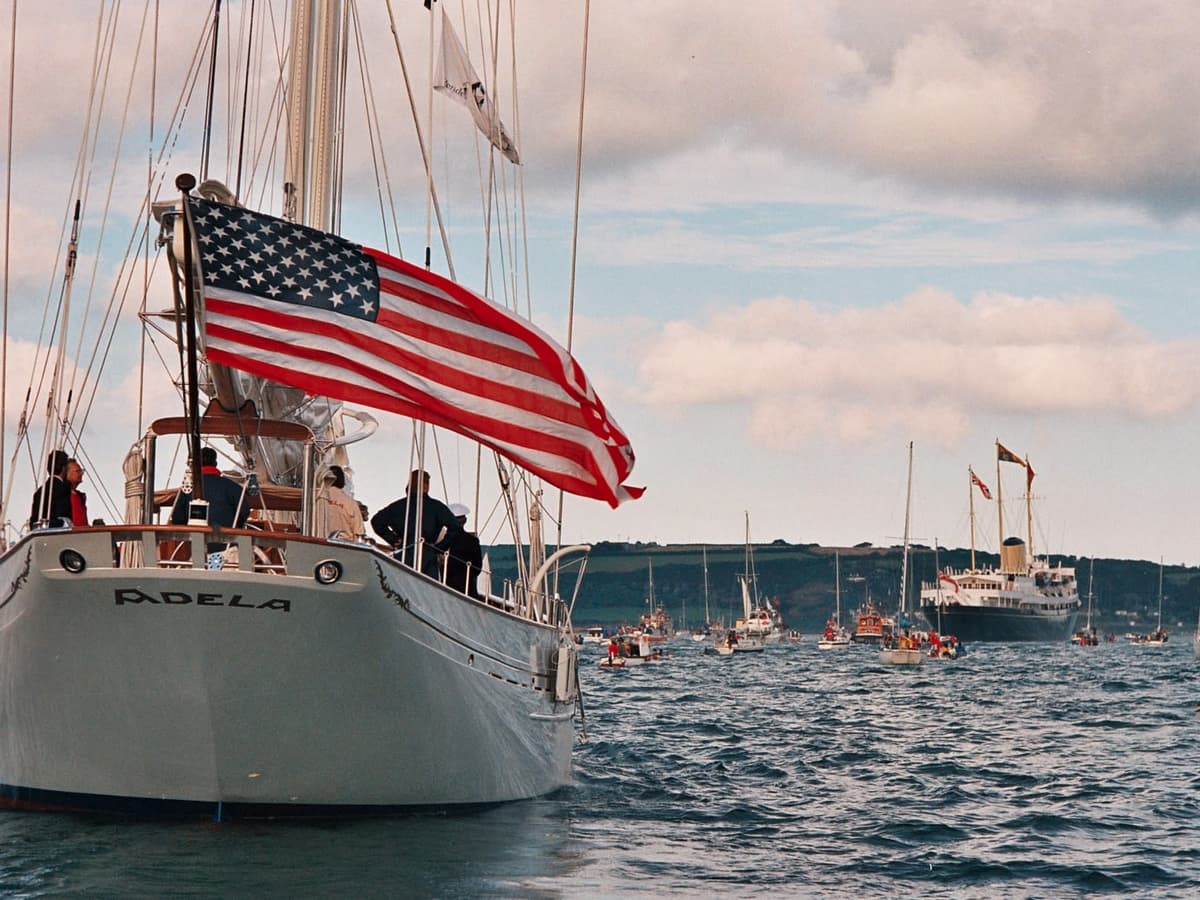 35 years of Pendennis: A journey back to 1995
This year is the 35th anniversary of the founding of Pendennis. As part of our celebrations, we'll be taking a journey through slices of Pendennis history, delving into the archives for photos and stories from the people who have been part of our journey over the years.
After the founding of the company in Falmouth Docks in 1988, our first two major projects were delivered in 1991; the new build of 125' ketch Taramber, and a major refit of the 228' three-masted schooner Adix. The contract to restore Adela marked the takeover by the company's new management team in 1993, comprised of existing employees David Bentley, Peter Wood, Henk Wiekens and Mike Carr.
Adela's restoration was completed in 1995, and this is the year we'll be visiting today.

Among the other projects in the yard at this time were the refits of 133' sailing yacht Altair and 187' schooner Fleurtje, as well as the new builds of 130' sloop Mamamouchi and the 76' sloop known as Ocean 23 - later christened Ocean Phoenix.
The design challenge presented by Adela's restoration was to incorporate every conceivable modern yacht system and convenience into the interior, without losing the charm, elegance and profile of the original 1903 W.C. Storey design. Traditional fittings were blended with modern technology, both within her interior and on deck. Custom made blocks and winches, concealed state of the art communications and a modern climate control system all provide the comfort and convenience one would expect on a modern superyacht.
Adela's sea trials took place in April. By this time, the yard facilities had been upgraded to include a slipway, making Adela's launch much easier as well as that of Altair the same spring.
Adela was relocated to the County wharf of Falmouth Docks for the stepping of the rigs and final touches prior to delivery. This happened to coincide with a very special visit to the town, as explained by Chairman and Co-Founder, Mike Carr;
"Her Majesty the Queen and The Duke of Edinburgh had flown down for an official visit to Cornwall and then joined Britannia for her last voyage before being decommissioned. The then Lord Lieutenant and great Pendennis supporter Lady Mary Holborow arranged for a Royal visit to Adela as part of their busy itinerary. When the Royal Couple arrived by car at Falmouth Docks, Britannia was moored alongside on the County wharf, as was Adela who had been relocated there for the stepping of her rigs just prior to delivery. The Duke of Edinburgh boarded Adela to be shown around by her Owners, who had toured Britannia the day before. His Royal Highness then greeted many of the Adela Project Team and Directors before joining The Queen aboard Britannia. The Royal Yacht departed, chaperoned by Adela, Altair and a large armada of small spectator boats into Falmouth Bay. What a proud day!"
Following her launch, Adela was awarded Best Sailing Yacht 36m+ by Showboats Magazine, and went on to become a regular and successful competitor on the race circuit.

Adela became a repeat client of both Pendennis Falmouth and later our Mediterranean facility, Pendennis Vilanova, returning for several refits over the years.

In November of 1995, we began another restoration - that of 1920s classic motor yacht Fair Lady