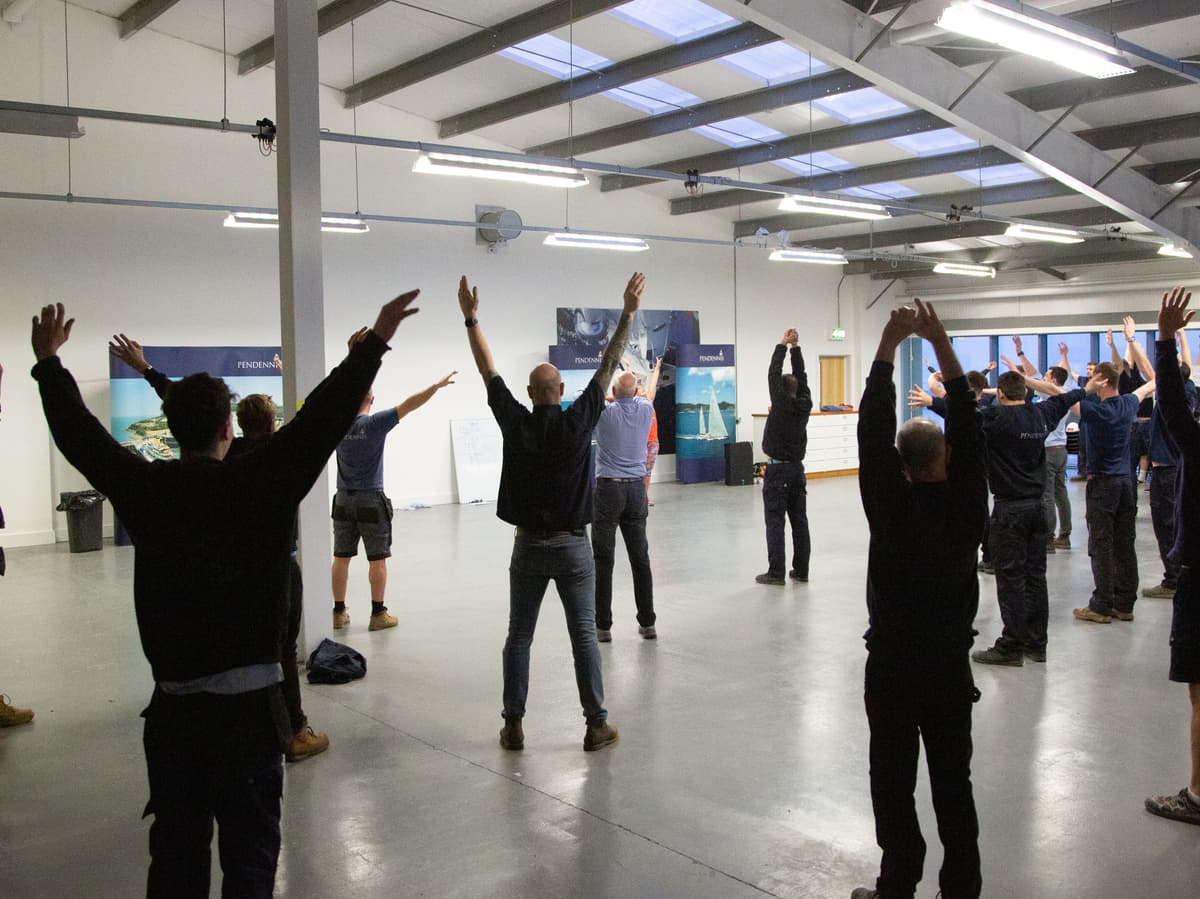 Pendennis Health Education Week 2022
Pendennis is no stranger to hosting a range of exciting events, but perhaps some of the most important are the events and activities we organise for our employees. During the beginning of April, Pendennis dedicated a whole week to Health Education, as we believe in giving our employees the opportunity to achieve the mental and physical health they want, while also working in a healthy, positive environment. Pendennis Health Education Week (PHEW) has been a fixture in our calendar for several years and gives us the opportunity to offer our employees a variety of health and wellbeing activities.

With a range of classes and activities throughout the week there was something for everyone. Each morning, there was a wake and shake class to invigorate and energise our workforce.

Healthy Cornwall brought in Tanita scales which measure your body composition. Smoking cessation groups provided support and guidance for those who wish to quit, and the local non-profit community interest company Man Down offered sessions on mental health and wellbeing. Daily free blood pressure and cholesterol checks were available with our onsite occupational health nurse.
The week was also full of physical activities to get heart rates going, including a 5-aside football tournament at Falmouth Sports Hub, in which six Pendennis teams went head-to-head to compete in good spirits, as well as encourage interdepartmental comradery between employees who might not see each other daily. This event also gave a new Pendennis sports club added publicity and more than enough players to keep it going. The Pendennis football team play every Wednesday evening in Falmouth.

Other activities included rounders at Penryn college, Yoga classes open to all, and a lunchtime spent with Sustrans group (a charity with the aim of making cycling easier) for bike maintenance and walking/ cycling information around the local area.
To round the week off we organised a free healthy lunch in partnership with FalFalafel for all our employees. There was a choice between a chicken or a falafel salad box, accompanied by a healthy drink, pitta bread and fruit. We named this "Food for Thought Thursday" and not only was this a chance for employees to socialise, but it was also a nice opportunity to gather feedback on the week and learn how we could improve next year; by asking what people enjoyed and what they would like to see more of next time.

During that lunch we made the exciting announcement that Pendennis Health and Wellbeing scheme is now free to all employees, and that includes full use of our onsite gym, all sports clubs, and exercise sessions. Previously, our Health and Wellbeing scheme has been a subscription-based service, but we are really looking forward to welcoming all our employees as members and seeing all sports clubs grow! This exciting step forwards came about because at Pendennis we believe a healthy mind and body should not be for just one week, it should be for an entire lifetime, and making clubs like these accessible to all employees will instigate a positive change for all.