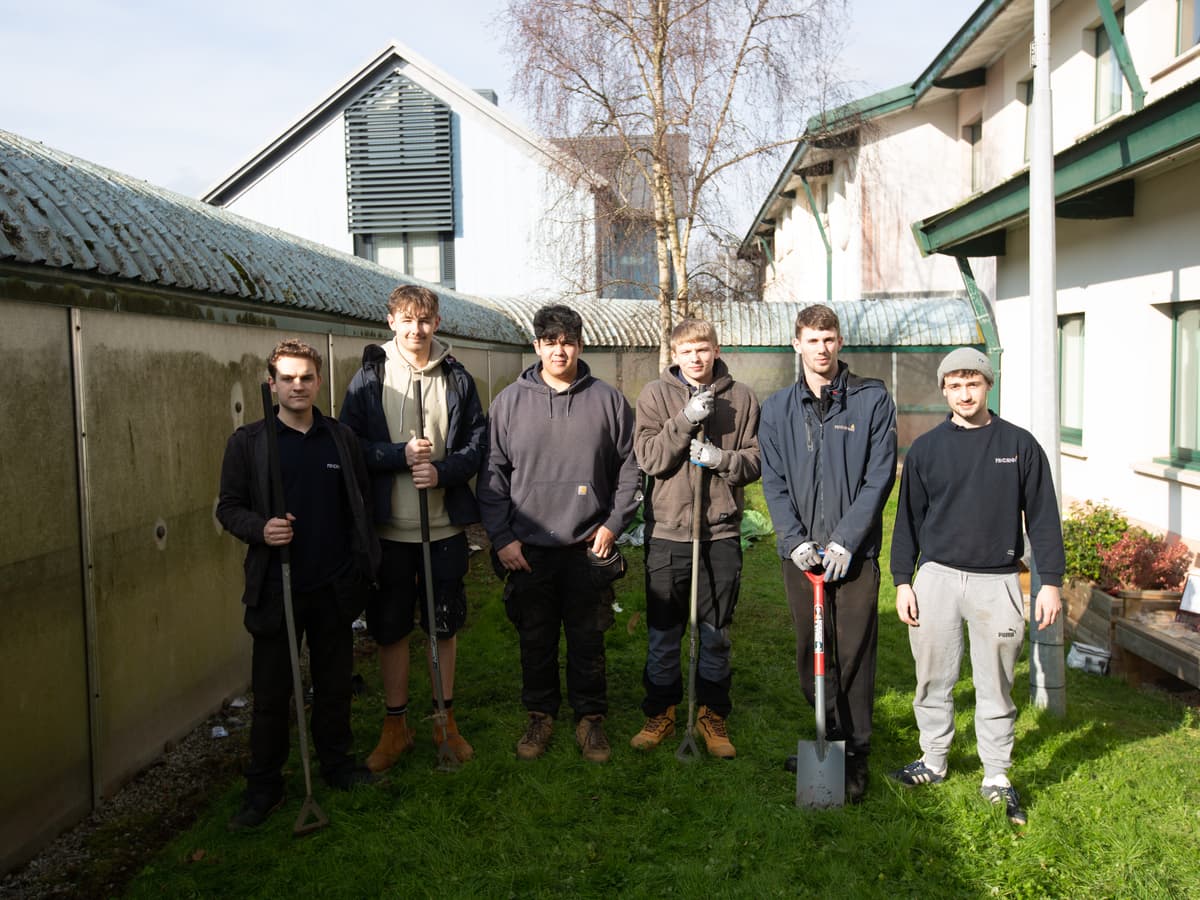 Pendennis Apprentice Community Week
It's been another fantastic National Apprenticeship Week, where we've seen employers, training providers, schools and students celebrating how apprenticeships provide skills for life.

For Pendennis, this one was extra special – not only is it the 35th anniversary of the company but it's also 25 years since we first began offering apprenticeships. Since the first intake in 1998 our apprenticeship offering has grown into a cornerstone of the company, having trained over 300 apprentices, many of whom have gone on to become supervisors, managers and senior managers within the wider team. With applications for the next intake of Pendennis Apprentices due to open at the beginning of March, there was plenty to celebrate! We had an action-packed week of events at our shipyard and in the local community.

Pendennis Apprentice Community Week is a regular part of our annual National Apprenticeship Week celebrations, where our apprentices volunteer their time and skills to local organisations and charities. Aside from the satisfaction of helping out some good causes, our apprentices get the chance to practice managing small teams, planning jobs and communicating with external contacts and colleagues from different trades. Every year, the teams who take part tell us how the experience improved their confidence and inter-personal skills. Meanwhile, we are thrilled to provide community projects a well-deserved boost.

This year, our apprentices volunteered at St Mary's Primary School, The Crypt Pre-School, Blind at Sea, Falmouth Hospital and The Sunrise Centre at Treliske Hospital.
At St Mary's, the apprentices were helping to build a sensory garden in memory of one of the school's pupils. They helped with laying foundations, building planters and doing gardening work. Sailing charity Blind at Sea received help with their yacht Lucienne, which they had just had surveyed and had a list of items needing attention. Our apprentices helped with as many items from the survey list as they could, including electrical work, repairs, painting and antifouling. Once the work has been signed off by further surveys, the yacht will be able to return to the seas, where it is a vital part of the charity's operations offering sailing trips to the visually impaired. The Crypt Pre-School in Falmouth, Falmouth Hospital and The Sunrise Centre at Treliske all received help with maintenance, gardening and painting. The patients of Falmouth and The Sunrise Centre now have improved peaceful outdoor spaces, while the children of The Crypt have a colourful outdoor shelter and freshened indoor space to enjoy.
In this video you can see an overview of the week and what it meant to those involved.

In addition to their community work, our apprentices were busy attending careers events online and at local schools and colleges, discussing their experiences, answering questions from pupils and even conducting mock interviews to help prepare pupils for the next step in their journeys. Events included Redruth School's Aspiration Fair, Falmouth School's Careers Event, mock interviews at Humphrey Davey School, an online event for Cornwall College and a visit to the shipyard from Penryn School students, hosted by Pendennis' Yacht Painting apprentices.

We also visited Flushing Sailing Club, where two apprentices joined our Chairman Mike Carr to give a talk to their patrons. It was a great chance for 2022 graduate Caius to revisit the club, having helped build custom furniture for their new race room two years ago.

Finally, two teams of apprentices competed in Cornwall College's annual fun-filled Apprentice Games on Thursday, where they were awarded Best Leadership, Best Communications and Best Mascot! There were seven rounds of challenges to test all kinds of skills, including mocktail making, dance battle, Esports and brick wall building.
Recruitment for this year's intake of Pendennis Apprentices was announced during the week, with the first stage in the application process being a recruitment event at the shipyard on Wednesday 1st March. Application forms will be available to attendees on the night, or to download from our website from Thursday 2nd March. If you aren't able to make it to the event but think this is a career path that could suit you, you can still ask questions via apprenticeships@pendennis.com
and take a look at our website to learn more before downloading your application pack.