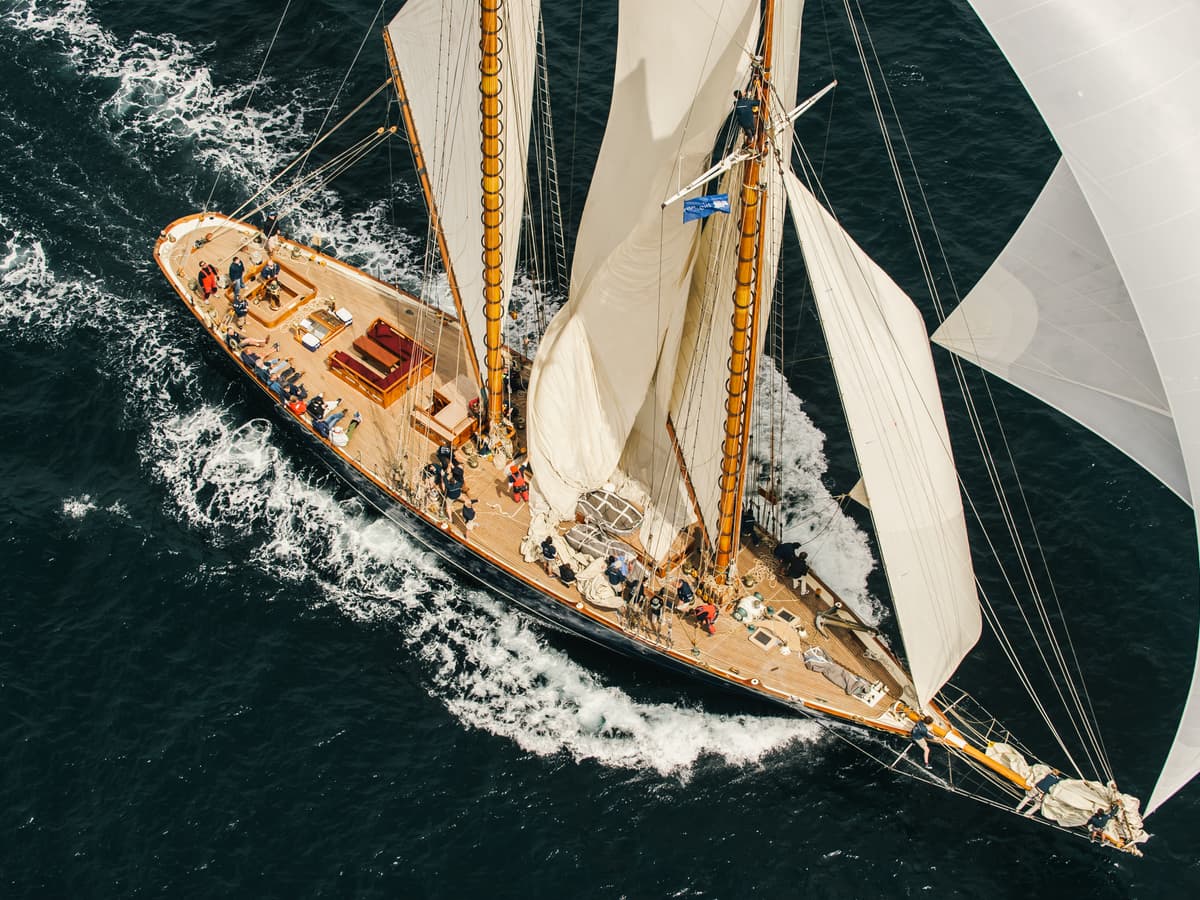 35 years of Pendennis: remembering 2014
As we continue to celebrate 35 years of Pendennis, we're looking today at 2014. This year marked the completion of Phase 1 of our major yard development, where the existing 'White House' was replaced by three construction halls, two of 90m and one 45m. The halls are complemented by modern offices, workshops and storage facilities, as well as our mast spray hall – one of the longest in Europe at 80m long.
It was a pleasure to welcome three Pendennis-built yachts back home; Rebecca, Christopher and Nostromo. All underwent refits in the yard, and the year was made extra special by another Pendennis Cup.

Rebecca

Rebecca has returned to Pendennis on numerous occasions since her build. In September 2013 she visited for her 15-year ABS survey, alongside key engineering and technical works. The 8-month refit which was completed in the Spring of 2014 included a full overhaul of her original main engine, and upgrade to the hydraulics and much more. Interior wise, Pendennis worked with Robin Black and layout modifications were made to her library area along with a general upgrade and overhaul of other areas. To read more about Rebecca click here.
Christopher

Christopher returned to Falmouth in the Autumn of 2013 for a winter refit, and this was completed just in time for the 2014 Pendennis Cup. Works carried out included a Lloyd's annual survey; hydraulic system checks; revamping of the teak cladding and deck and minor interior adjustments. Read more about Christopher here.
Nostromo
The third yacht to return to Falmouth for a winter refit in 2013/14 is Nostromo; the eighth yacht to be built by Pendennis from the Dubois drawing boards. Her 2013/14 refit included a 5-year Lloyd's survey and MCA survey, a full vessel exterior re-paint, new electronics and entertainment system package, Owner cabin modifications and more. Read more about Nostromo here.
Refit of Mariette
Mariette returned to Pendennis in 2014 for a refit. Mariette was one of the first vessels hauled out with the new 640-tonne travel hoist in 2014; she also took part in the 2014 Pendennis Cup, as can be seen in the images below. Read more about Mariette here.
2014 Pendennis Cup
The fourth edition of the Pendennis Cup took place in Falmouth from 26th to 31st May 2014. This year's competition saw 11 yachts compete over four days. The dramatic regatta displayed both modern and classic superyachts as they battled against one another for the honour. S/Y Velacarina stormed over the finish line, claiming first place, and S/Y Christopher followed in second place.
We organised a display from the Red Arrows above the Falmouth seafront to mark the final day of the sailing regatta, and with the fantastic weather, a huge flotilla of boats on the water and crowds of spectators lining the beach, it really was a memorable day.