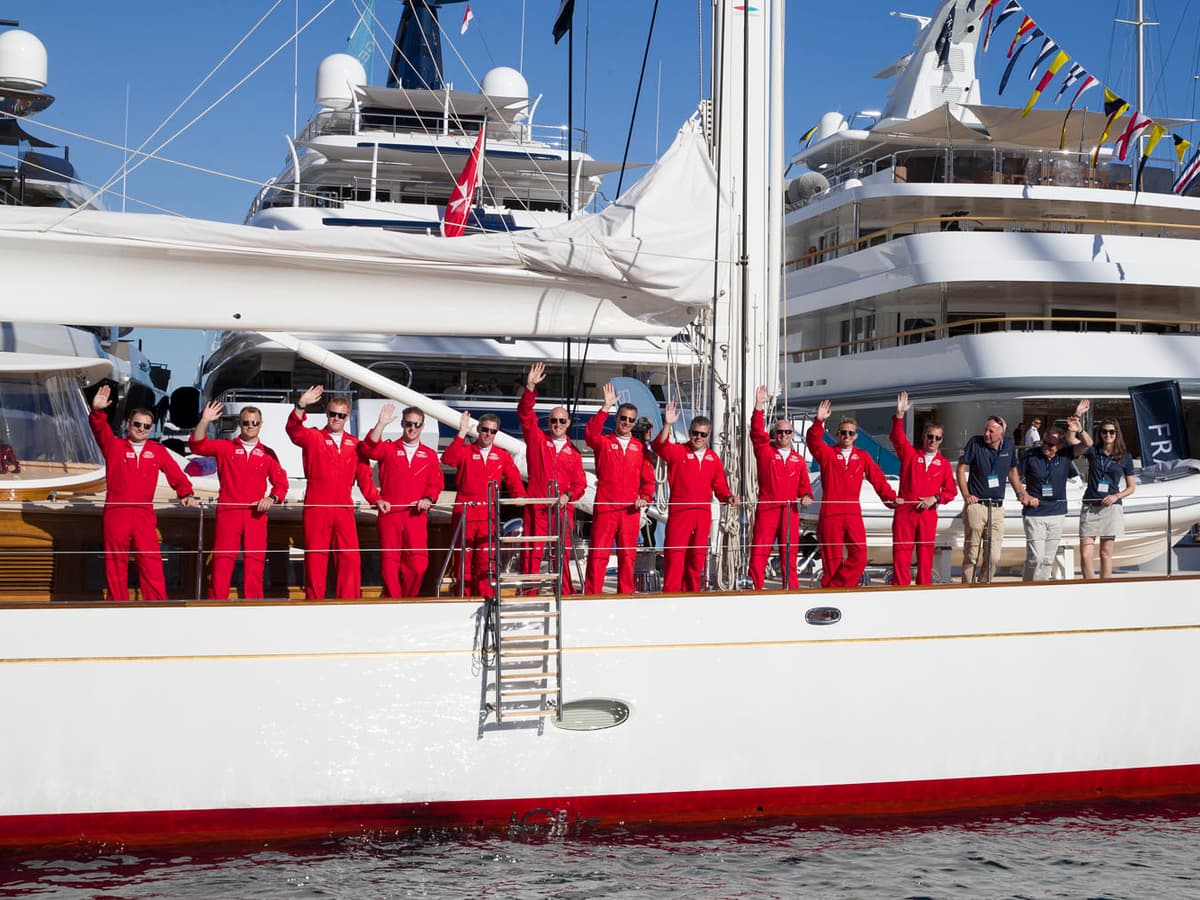 35 years of Pendennis: looking back at 2018
As part of our 35th anniversary celebrations we're highlighting momentous sections of Pendennis' history, so we had to include 2018 of course – the big 3-0. We celebrated our 30th anniversary at Monaco Yacht Show by organising a display over Port Hercules by the Red Arrows. It was extra-special to be able to host the pilots on board our new build Vijonara afterwards - we were exhibiting the 128' sloop there following her launch earlier that year.
Vijonara
The 128' Hoek sloop Vijonara was delivered in the spring of 2018, following an 18-month build programme in Falmouth. Andre Hoek, her Dutch designer commented that "This is the second hull in our 'Truly Classic 128' series", the vessel was created primarily for knowledgeable clients with extensive sailing experience. Andre worked closely with the team at Pendennis and communicated directly with Vijonara's Owner's in order to create their uniquely envisaged yacht. Vijonara went on to win Best Sailing Yacht in the 30m to 59.9m category at the 2019 World Superyacht Awards, in addition to winning an Exterior Styling Award in the Sailing Yacht category at the Boat International Design and Innovation Awards.
Vijonara made a beautiful addition to the next stage of our celebrations in 2018, a Classic Yacht Cruise from Cannes to St Tropez. We organised the cruise for the Owners of classic yachts who had been refitted and restored by Pendennis over the years. The line-up also included Fair Lady, Blue Bird, Talitha, Malahne, Mariette of 1915 and Haida 1929, whose restoration we had also completed that year.

You can read more about Vijonara here.
Haida 1929 restoration
A specialist team with relevant uncompromising classic yacht experience were chosen for the restoration of Haida 1929. Working closely with Edmiston Yacht Management and interior designer Adam Lay, the Pendennis team applied their expertise in yacht restoration to undertake a painstakingly detailed 18-month refit programme. A considered approach was taken from the outset to restore her former glory whilst improving her for the new Owner's use. The refit was completed by a full hull repaint, with a unique shade of turquoise chosen for below the waterline.
Haida 1929 went on to win Best Rebuilt Yacht at the 2019 World Superyacht Awards. You can read more about Haida here.
Mariette of 1915 refit
The beautiful schooner arrived back in Falmouth in autumn 2017 for a more extensive refit season which was carried out in close partnership with the crew. Works conducted included updates to all electrical fixtures, a complete replacement of the deck and subdeck, internal modifications such as a flue installation in the saloon for a wood burner, and upgrades to the Owner's and guest cabins.
Other works carried out include complete upgrades to the navigational and communications systems, and a redesign of the Captain's cabin and galley.
Mariette of 1915 was redelivered in spring 2018 when the Pendennis team bid a fond farewell to her Owner and crew, bringing an end to her most comprehensive refit to date. We met up again with Mariette of 1915 for the Classic Yacht Cruise from Cannes to St Tropez in honour of Pendennis' 30th anniversary, as mentioned previously.

To read more about Mariette click here.
G2
Having arrived in Falmouth in autumn 2017, the Tripp designed performance sailing sloop G2 (ex. Cinderella IV) completed a refit at Pendennis Shipyard in summer 2018 with Owners' representation by Cornelsen & Partner. This extensive refit included structural restyling by the original Naval Architect Tripp Design, the changes saw the exterior aft classic cuddy cabin, a feature catering to more intemperate climates, removed thereby creating a large open space that is ideal for outdoor living in warmer locations.
In addition, a large glass skylight highlighted the modernised interiors, designed by Milan-based Nauta Design. The Pendennis engineering teams upgraded the yacht to hold the most modern and reliable technical, navigational, communications and sailing systems. G2 went on to win Best Refitted Yacht at the 2019 World Superyacht Awards, and Best Refit at the ISS Awards 2019. To read more about G2, click here.

Other notable refits not to be missed from 2018 include that of Christopher, A2, Adela and Catalina.