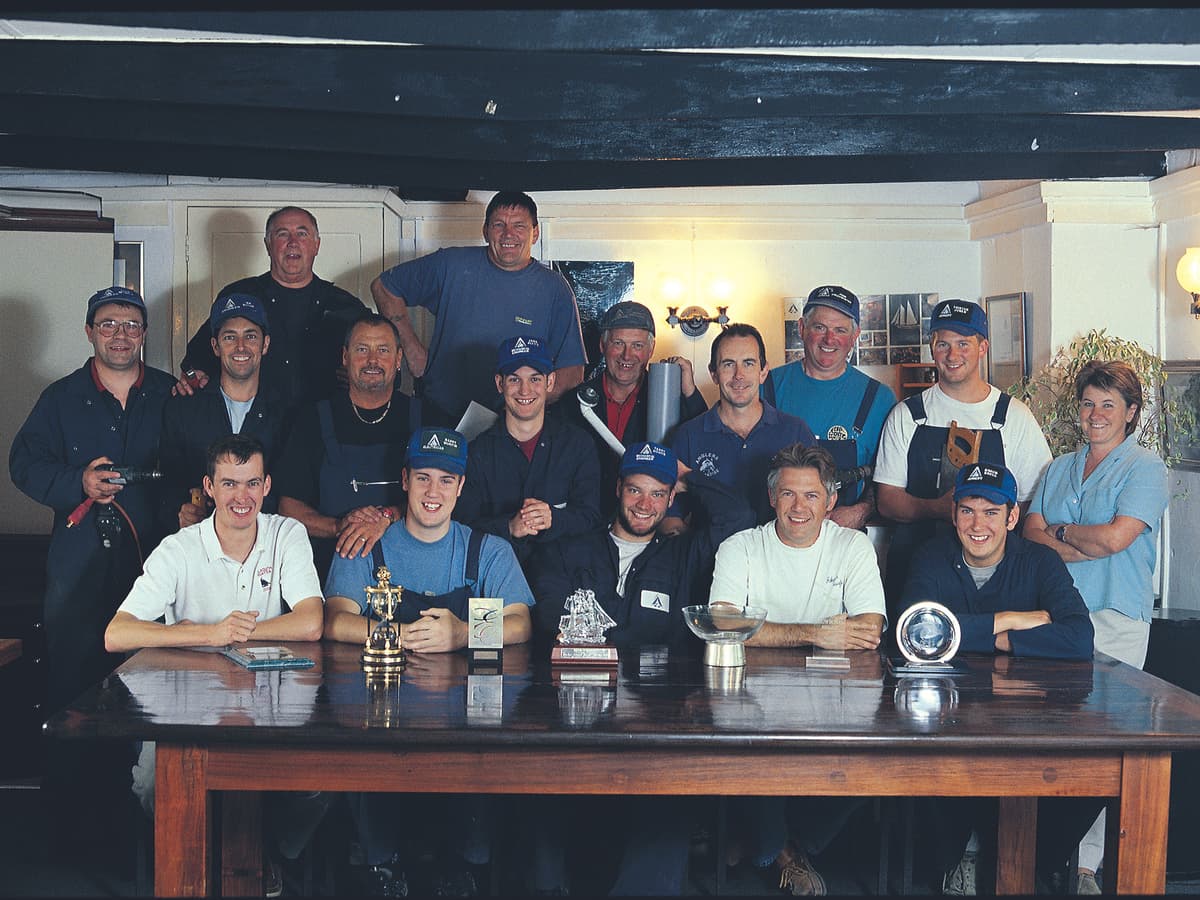 35 years of Pendennis: 25 years of Pendennis Apprenticeships
The 35th anniversary of Pendennis is also the 25th anniversary of our apprenticeships, so today we're celebrating the creation of the General scheme in 1998.

We caught up with three ex-apprentices who were part of the very first intake of recruits in 1998, to highlight their career journeys and just a few of the paths available at Pendennis. We believe in helping our staff develop and achieve their career ambitions, which is why so many of our apprenticeship graduates stay with the company and work their way into a wide variety of roles.
Tristan Jones - Aftersales Manager
Back in 1998 I was lucky enough to be selected as one of Pendennis' first batch of apprentices. Since then, my career journey with the company has been incredibly varied, giving me the chance to travel, gain a broad range of skills and make some amazing memories.

I chose the joinery route, completing my four-year apprenticeship and then continuing my studies with a HND provided by Pendennis. I worked as a joinery tradesman and was given the opportunity to spend a lot of time abroad, working on small-medium sized projects as part of Pendennis' global support offering. In the periods back in the yard, I moved into the CAD team, helping design the interior of 47.5m sailing yacht MITseaAH.

After my HND, with Pendennis's support, I enrolled on a 3D Design degree course at Plymouth University. Whilst at university I continued to work all of my holidays in the yard in a variety of departments, including Sales & Marketing helping develop refit proposals, Technical/CAD helping design the King Harry Ferry, and even spending time back in Joinery helping to sand decks on the nearly finished MITseaAH.
Upon returning to the yard full time, I was offered the chance to become a project manager. I was paired with a well-established project manager whose skills lay in paint and fabrication, whilst mine were joinery and electrics. Project managing refits was an interesting and exhilarating further 4 years of my career at Pendennis, using a lot of the transferable skills I had learned during my degree course.
In 2010 the opportunity then arose to return full circle and rejoin my colleagues in the workshop by taking over the management of the joinery department. I ran the joinery team for many years before relocating to oversee projects based at our Mediterranean locations, first in Palma, Majorca and then in 2019 to Spain, at our newly opened technical service centre near Barcelona, Pendennis Vilanova.
Now, using a combination of all the skills I've learnt throughout my Pendennis career, I have returned to our Falmouth base as Aftersales Manager. My role involves through life support to all of our yachts - we supply fixtures and fittings that we used here in the refit, we provide technical knowledge and updates to their drawings, and even start to work on future refits ready for when they come to the yard.
The skills that I learnt during my general apprenticeship were the foundation for my career path through Pendennis. There were a lot of skills I learnt that didn't seem relevant at the time because I always knew I wanted to be a joiner, but taking on those bits of fabrication, engineering, paint and other trades helps me every day in my current role, because I understand what each trade is trying to achieve and how to help them optimise their goals.
Jake Pitts - Technical Project Engineer
After I graduated from my apprenticeship in 2002, I was working on board the vessels focusing on pipework installation, mainly in the hydraulics department. I worked on quite a few projects and then during work on explorer yacht STEEL there was the opportunity to work in the CAD department. From there I had experience of design which led to me getting the project engineer role on Dartmouth Ferry, and this gave me experience in running a team. Since then I've worked on anything from 30m up to 60-70m yachts and progressed into working on design and specification.
As Technical Project Engineer, I'm involved in designing and specifying the mechanical systems on board the vessels. This could be anything from engine and drive train installations to sewage and potable water systems and anything in between. A big skill my job requires is teamwork, I work with everybody on the shop floor up to the directors and also client teams, project teams - I'm often the liaison between all of them.

So far, my career highlight was probably working on Malahne. That was a big restoration project of a 1937 classic yacht, restored from the ground up, back to a functional working yacht. I was the lead project engineer for the engineering department and was involved in the design and build process from the very beginning. This included full system design, installation, commissioning, and delivery. We had to design all new systems to fit inside the classic interior, while keeping the exterior appearance of a 1930s motor yacht. This made for a very challenging yet rewarding build. It was very satisfying when finished to walk through a classic interior into a new engine room with all the amenities you would normally see on a modern superyacht.
I think starting with an apprenticeship gives you a really good, varied experience between hands on learning and academic qualifications. The skills you learn throughout the course give you an excellent base for your whole working life, so again anything from teamwork and communication skills to practical skills, to knowledge of the vessels and their systems.
Right from the start of my apprenticeship I was interested in taking things apart, putting them back together, learning how they worked…I knew that was the way I wanted to go. Now as a Project Engineer, I'm basically doing the same thing but on a much bigger scale!
Simon Snell - Senior Technical Draughtsman
My career journey since starting the apprenticeship in 1998 has been to work my way up from apprentice, joiner, leading hand (supervisor), draughtsman and now a senior draughtsman.

As a draughtsman I use 2D and 3D design programs to create cabin layouts, produce construction drawings for furniture and engineer bespoke solutions to design challenges. I may take drawings from the designers or ideas and concepts from the client, I then translate them into working drawings which the tradespeople can follow to construct the finished product. This involves understanding what the client wants to achieve and then working out how to make the item not just look right, but also perform right. In addition, I need to think about how the item can best be constructed by the tradespeople and ensure it can be properly installed on the boat.

All the while I have to be aware of the practicalities and restrictions of a vessel at sea, to make sure that what I'm drawing will function appropriately on board. As well as communicating with my team of tradespeople, the design teams and Owner's reps, I must communicate well with the other Pendennis trades, so that while I'm planning the joinery items to go into the boat I'm aware of everything else that needs to go in, around and behind them - especially where things like plumbing and wiring need to remain accessible for future maintenance.

One stand out project for me during my journey was explorer yacht STEEL, from installing the whole nanny's cabin to working alongside the subcontractors, it was then I knew that I was confident of my trade and was able to hold my own.
Another was sailing yacht Christopher, the first boat I worked on as a draughtsman. This was at the totally different end of the spectrum to a motor yacht like STEEL, though both bespoke built by Pendennis. It was a steep learning curve, learning to work with the shape of the hull whilst drawing up the crew and guest areas.

A real career highlight has been working closely with Henk on projects like A2 and Malahne. I thought working with one of the Managing Directors of the company was going to be very intimidating, but I soon realised that he had noticed what I was capable of and he was a great source of encouragement.

Nowadays, my favourite things about the job are my team, working closely with the guys on the shop floor and in my original trade of joinery, and also meeting design challenges with problem solving ideas – it's satisfying when an idea that you came up with is proven to work really well or to save on time or materials.

When I first started the apprenticeship, it was all about earning money while I was learning. But now that I am older and looking back, I have worked with some of the best skilled tradesmen I have known (across all Pendennis' trades), and for them to pass their experiences and knowledge on to me is something you'll never just learn from books or YouTube videos.