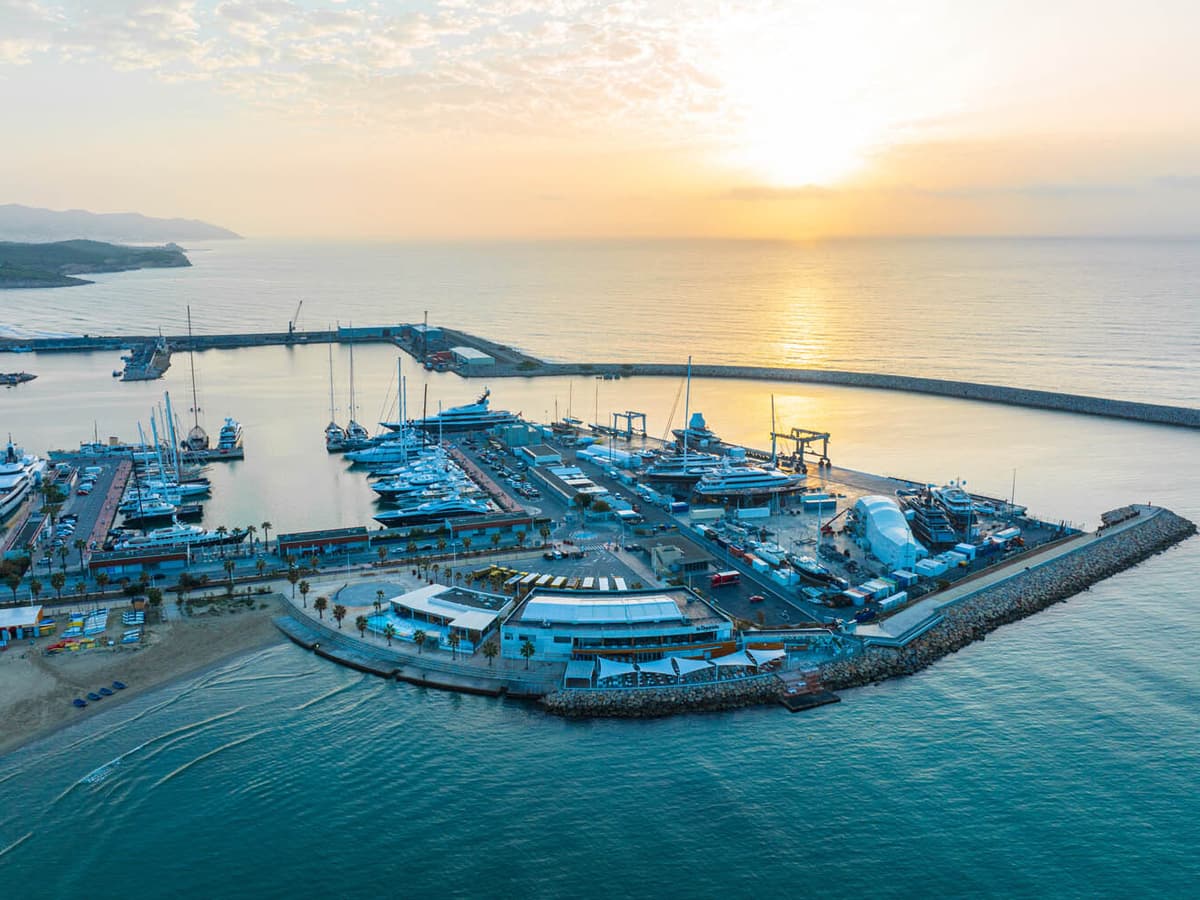 Vilanova
Conveniently positioned just 45 minutes from the centre of Barcelona and 30 minutes from the city's international airport – Vilanova Grand Marina provides the perfect base in the heart of the Mediterranean, offering 48 berths for superyachts ranging between 25 and 130 metres including a 24-hour security service.

In the Autumn of 2019 we opened a superyacht Technical Service Centre trading as Pendennis Vilanova, spanning across a 30,000sqm shipyard equipped with both a 200t and 620t travel hoist for performing repair and maintenance works. Focused on small to medium scale refits the Pendennis Vilanova Technical Service Centre is run by a dedicated team of 25 tradespeople, comprised of multi-lingual individuals from both the UK and Spain.

Pendennis Vilanova and Vilanova Grand Marina work in tandem to provide a complete service for superyachts in the Mediterranean, with yachts benefitting from a secure and protected environment as well as having the option to tap into our multilingual technical support team as and when required. The partnership offers clients the ability to either self-manage or utilise the team of in-house tradespeople during their stay, with many projects choosing a combination of the two options. The proximity of the technical service centre to the marina allows for projects to be carried out both on the facility's 30,000sqm of hard standing or afloat in the marina itself.
Facilities
620 tonne travel hoist
200 tonne travel hoist
12,000m² haul out and hard standing area
48 superyacht berths for yachts between 25m and 130m
Technical trade support
ISPS Compliant
24h dockmaster service
Dedicated customer service team
Wifi connection
Waste and wastewater collection
24-hour security and surveillance
Private parking in front of moorings
Stores distribution throughout the marina
Toilets & changing rooms
Laundry services
Helistop
Free gym for crews
Bar/restaurant open 365 days a year
Waste management areas for special residues
Crew testimonials
Life in Barcelona
Vilanova i la Geltrú is a vibrant and friendly town with a population of over 65,000 and a wealth of amenities and leisure facilities. Vilanova is the capital of the small region of Garraf which remains refreshingly unspoilt despite its closeness to Barcelona. The area has 25 kilometres of large sandy beaches and tiny secluded bays almost hidden beneath rocky cliffs. The marina and Technical Service Centre is just a short walk from the town, which boasts an exquisite local cuisine as a result of its strong agricultural and fishing heritage.
With easy and regular links to Palma de Mallorca, Vilanova
i la Geltrú is also close to ski location Andorra and the Spanish Pyrenées for winter sports enthusiasts. Long stretches of sandy beach are a kite surfer's paradise and we offer a free on-site gym, weekly yoga classes and regular sports sessions to help you take care of your crew's health and wellbeing. The marina also benefits from an on-site bar and restaurant, laundry services, private parking next to the berths and a dedicated customer service team.
How To Find Us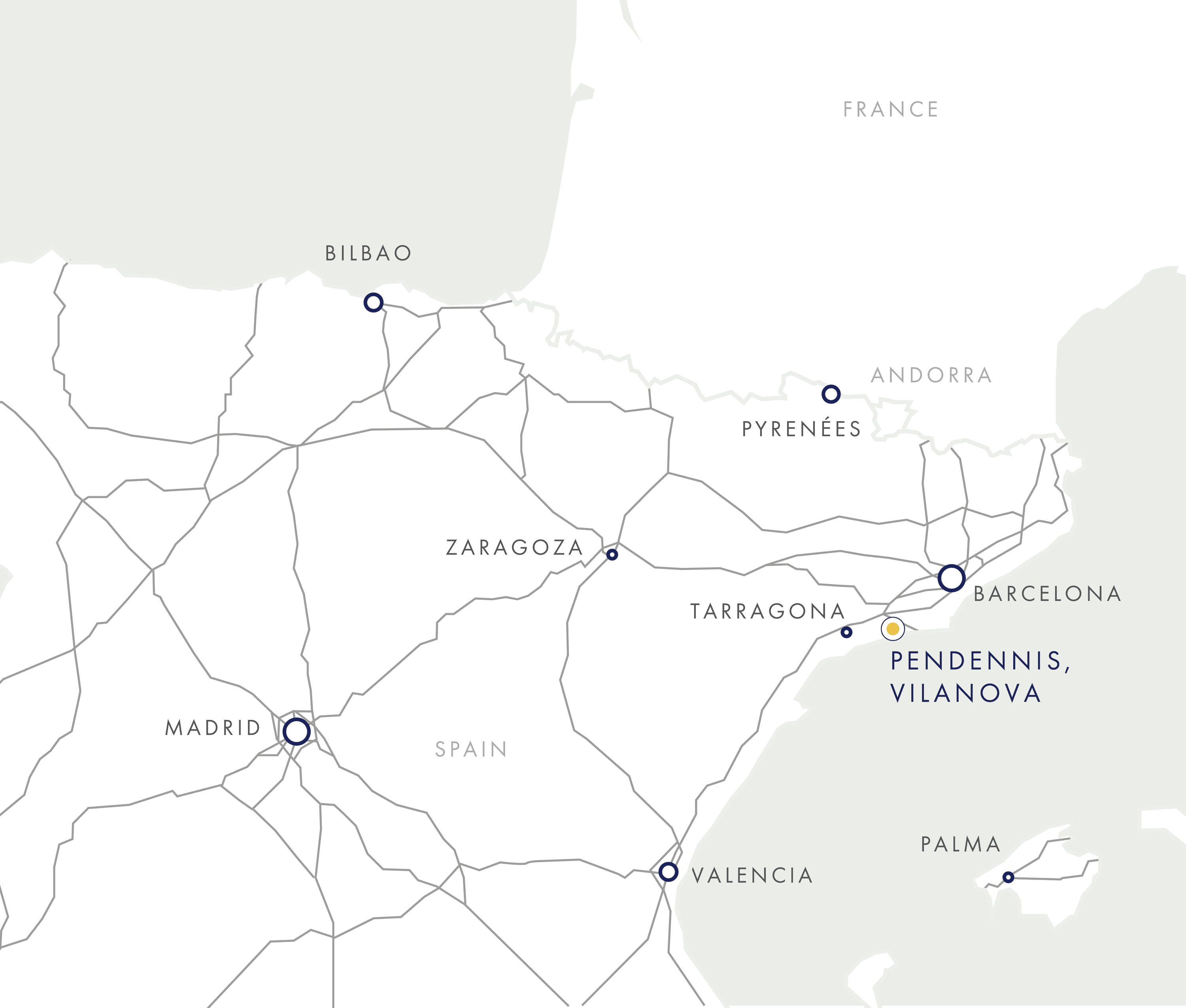 Our Technical Service Centre is conveniently positioned just 45 minutes from the centre of Barcelona and 30 minutes from the city's international airport, adjacent to Vilanova Grand Marina – a complete service for superyachts in the heart of the Mediterranean.
By rail
The nearest main line station is Vilanova i la Geltrú, with regular timetabled routes to and from Barcelona taking approximately 60 minutes. The fastest direct service takes just 35 minutes.
By road
Vilanova is situated just 30 minutes from Barcelona's international airport. Take the C31 south towards Tarragona and join the C32 taking you through the rolling hills and vineyards of the Catalonian countryside. Take exit 26 onto the C31 and follow signs towards Vilafranca and Vilanova I la Geltru (C15). At the roundabout, take the fourth exit onto Ronda Europa, which will lead you all the way to the picturesque seafront of Rambla del Port. The marina will be on your left at Moll de Ponent.
By air

Vilanova Grand Marina has a private on-site helicopter pad.Alternatively, situated just 12km from Barcelona's city centre, Barcelona El Prat airport (BCN) is Catalonia's main airport and serves over 34 million passengers per year. The airport boasts a dedicated private jet terminal.