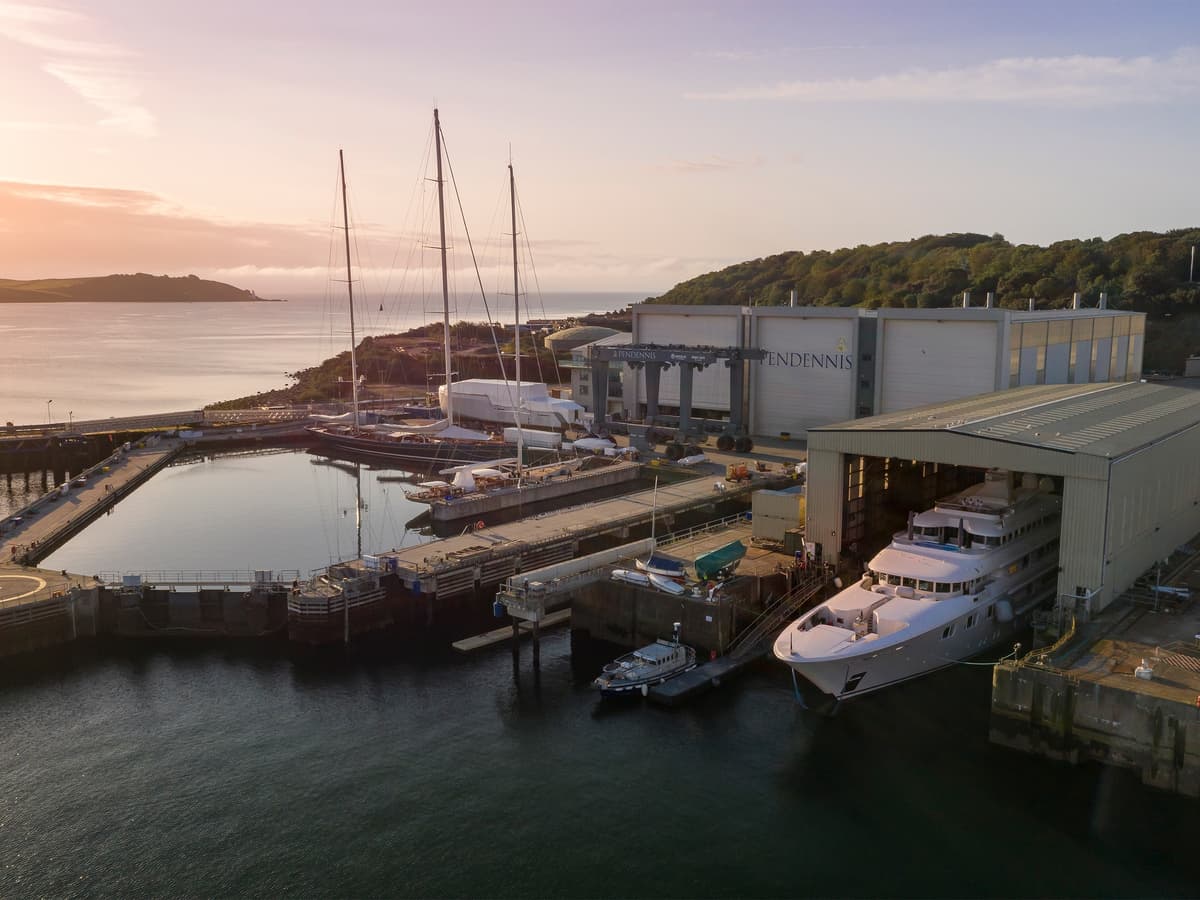 Falmouth
Throughout Pendennis' history we have been committed to improving our facilities in Falmouth. Most recently we have undertaken a significant programme of development on site, including the creation of our non-tidal wet basin, new 90m and 45m construction halls and the upgrade to our 800t travel hoist. This evolution has enabled us to haul out larger yachts, and provide pre- and post-project in-water services right in the heart of the shipyard, which equates to efficiency and convenience for our clients.
Previous development of the site has also included a project to cover the outer 75m of our 150m dry dock, which forms an integral part of our specialist refit facilities.
Facilities
2 x 75m fully enclosed Dry Docks (or one 150m x 24m)
2 x 90m Construction Halls (1,800m²)
1 x 45m Construction Hall (1,200m²)
7,564m² of Enclosed non-tidal Wet Basin
Alongside berthing for boats up to 100m
800 tonne Travel Hoist
1400m² Refit Complex (housing paint, joinery and engineering workshops, and project management offices)
Hard standing area for external works
Bespoke 80m Mast Hall
200m² Finishing Workshop
1200m² General Stores and Crew Storage
Crew Facilities: Training Centre, Gym and Offices
420m² Hospitality Suite
Private Onsite Helicopter Pad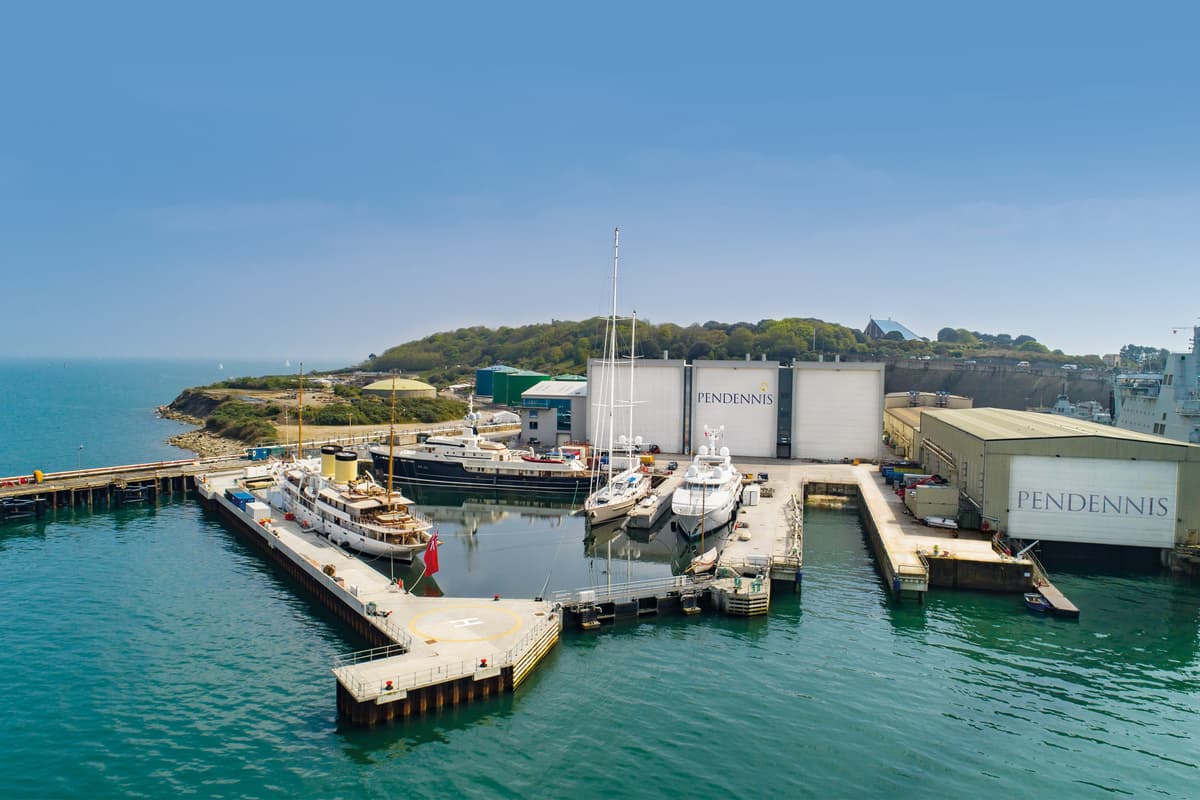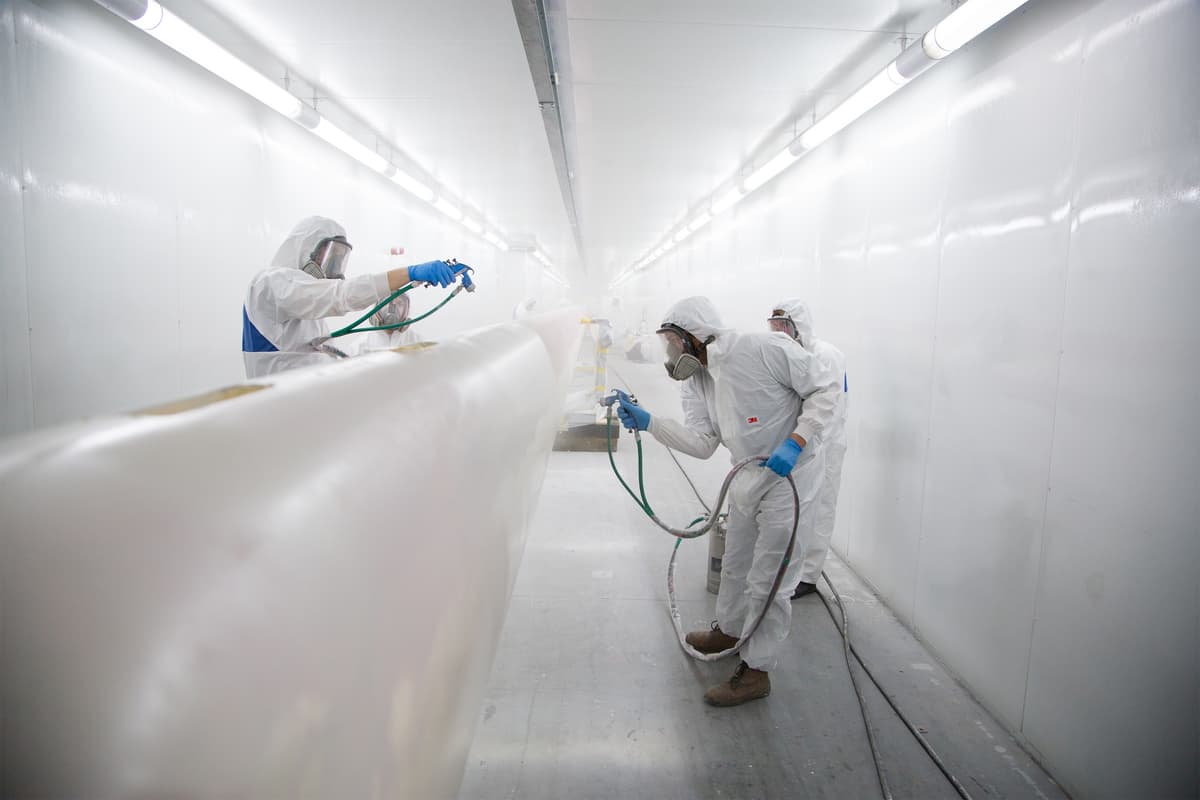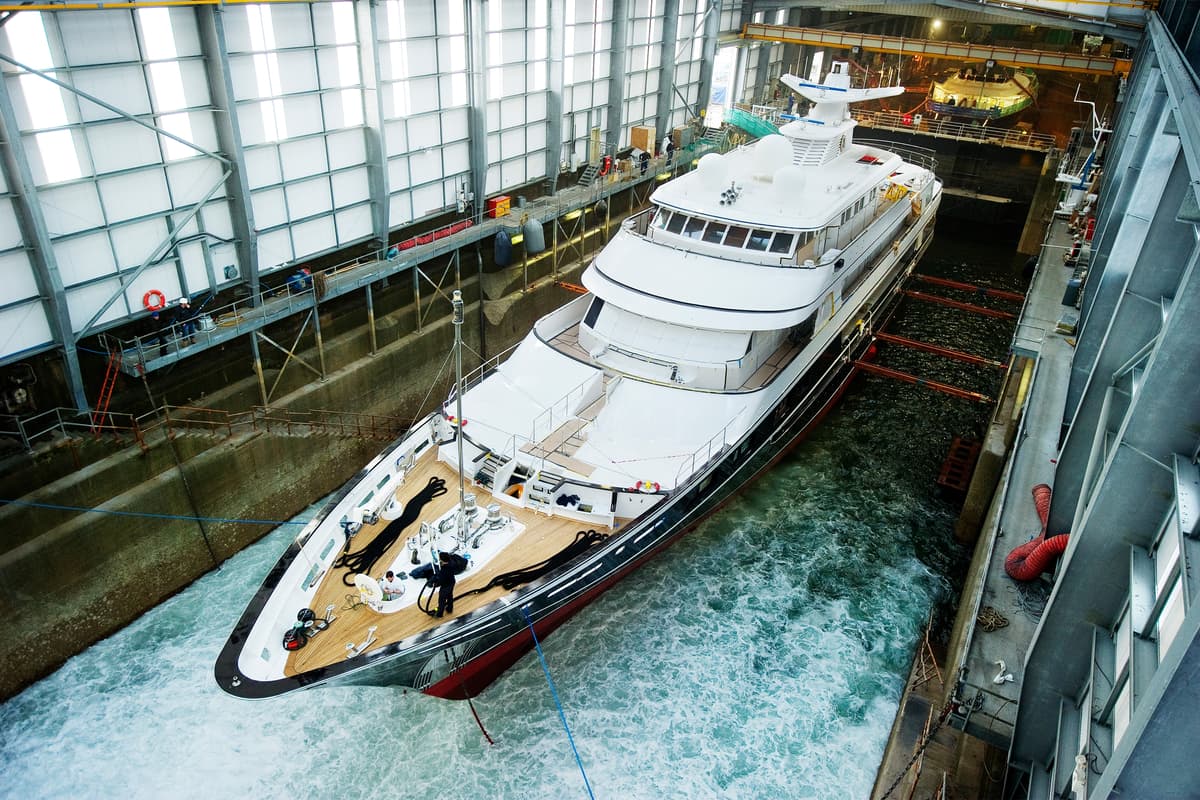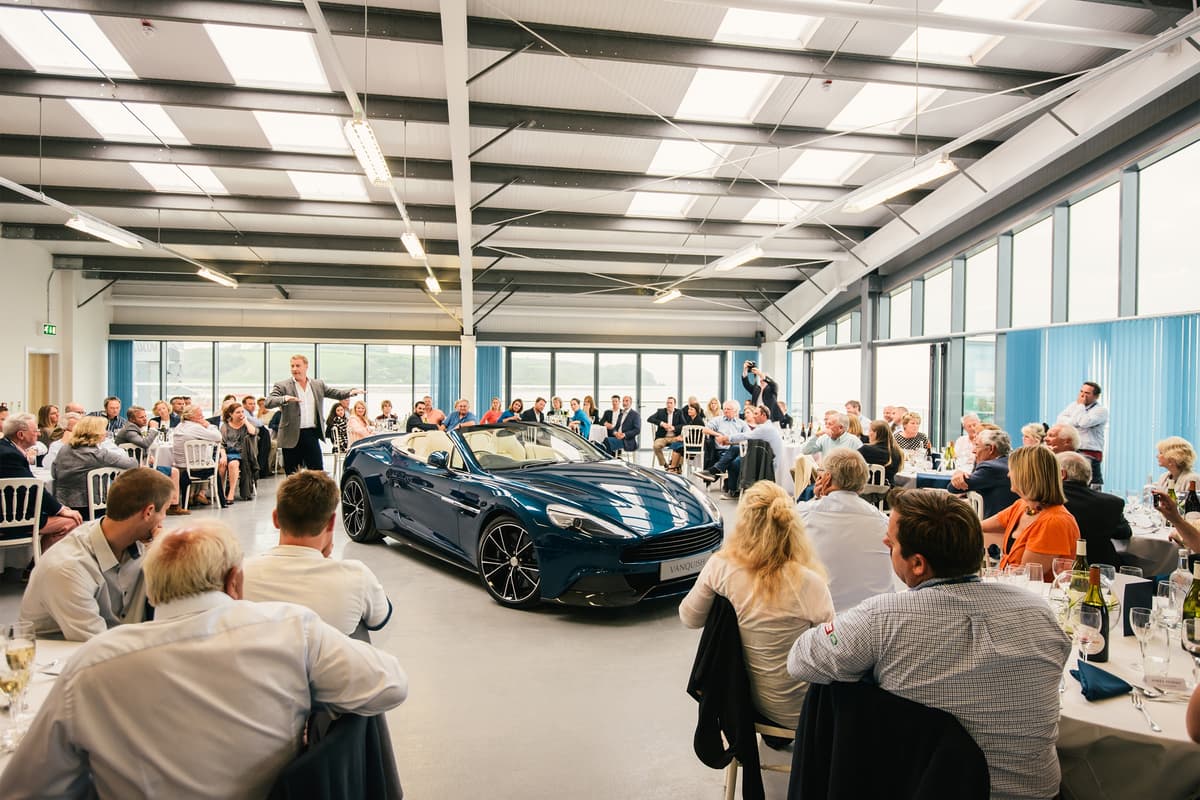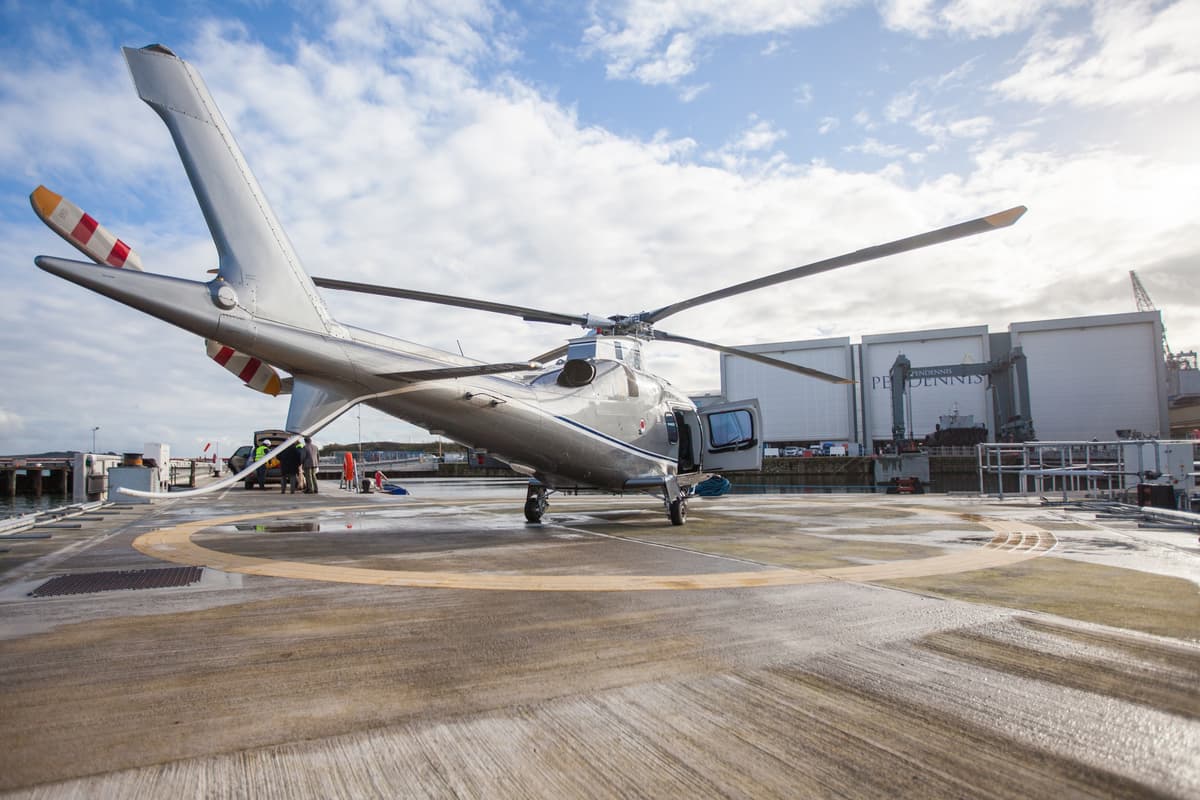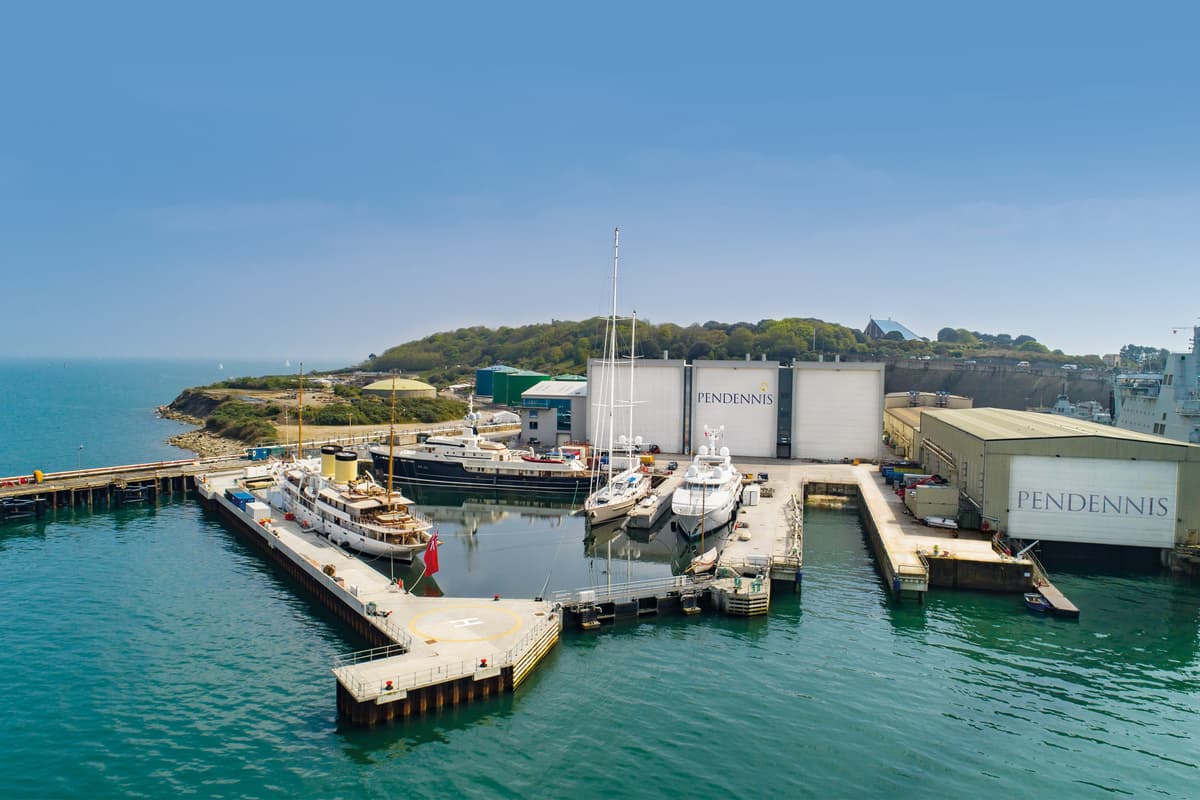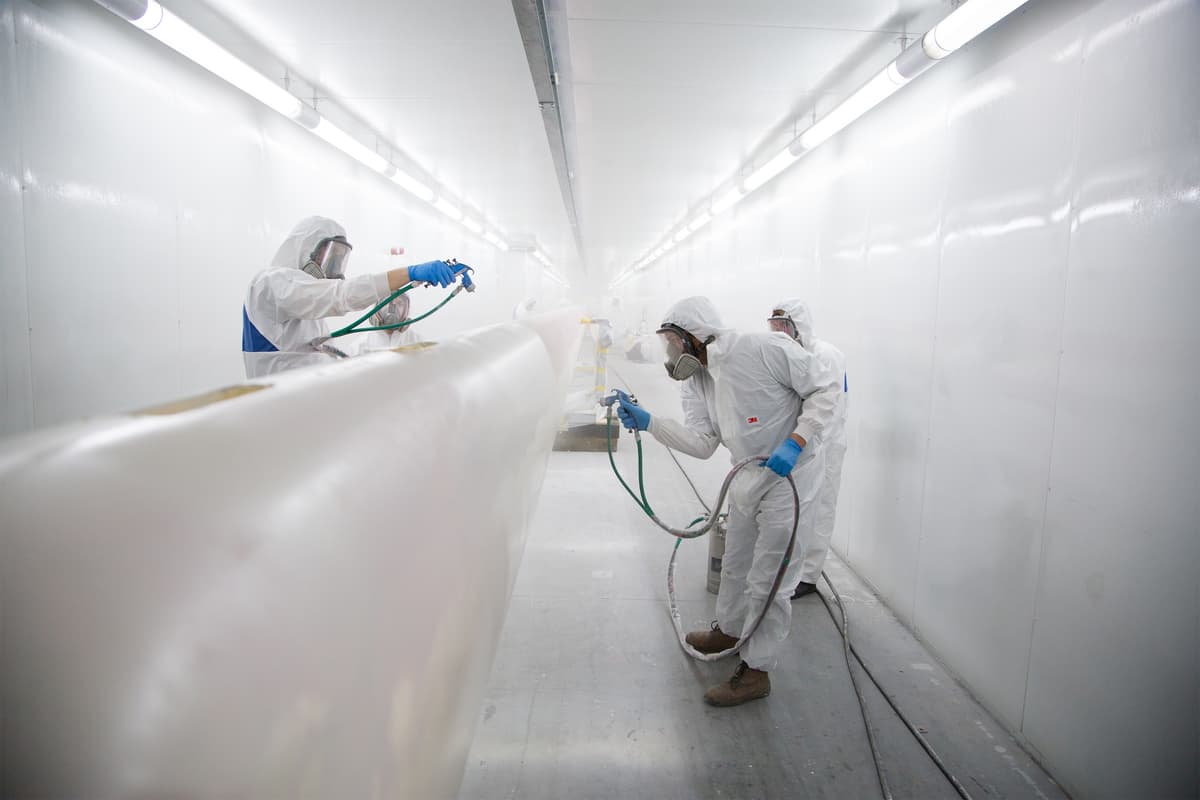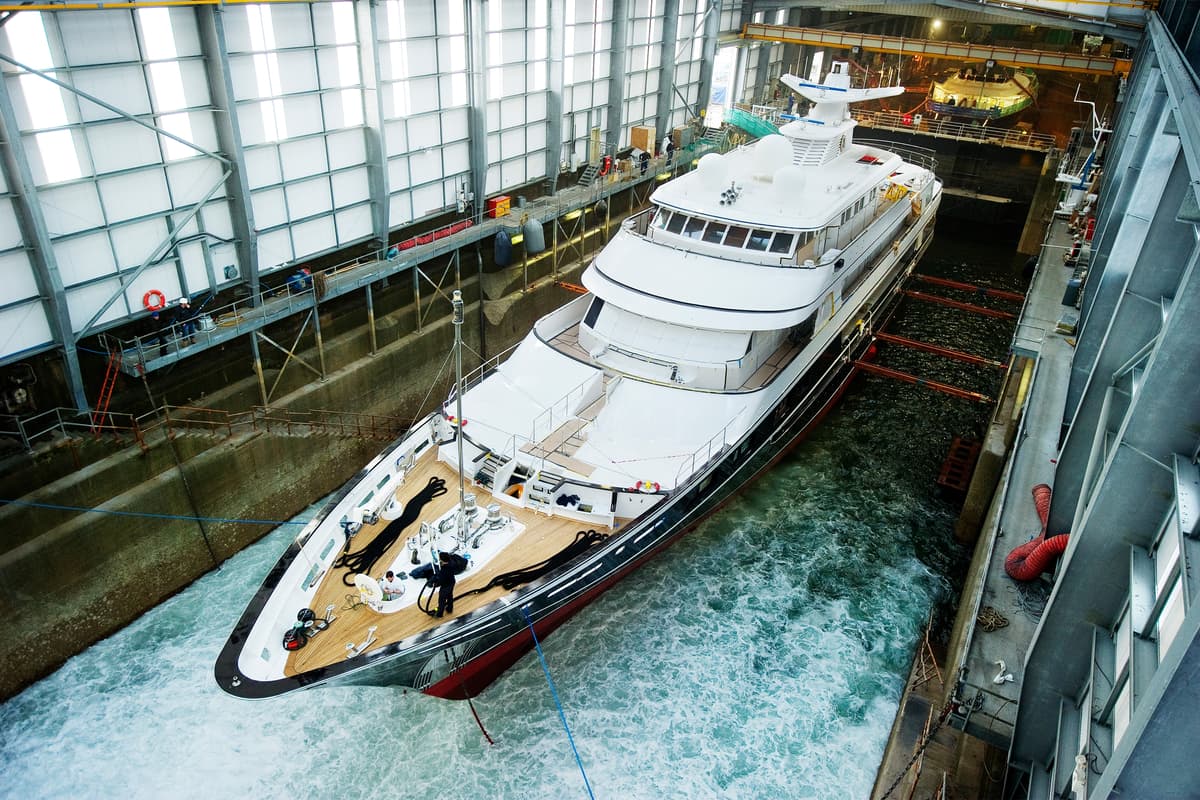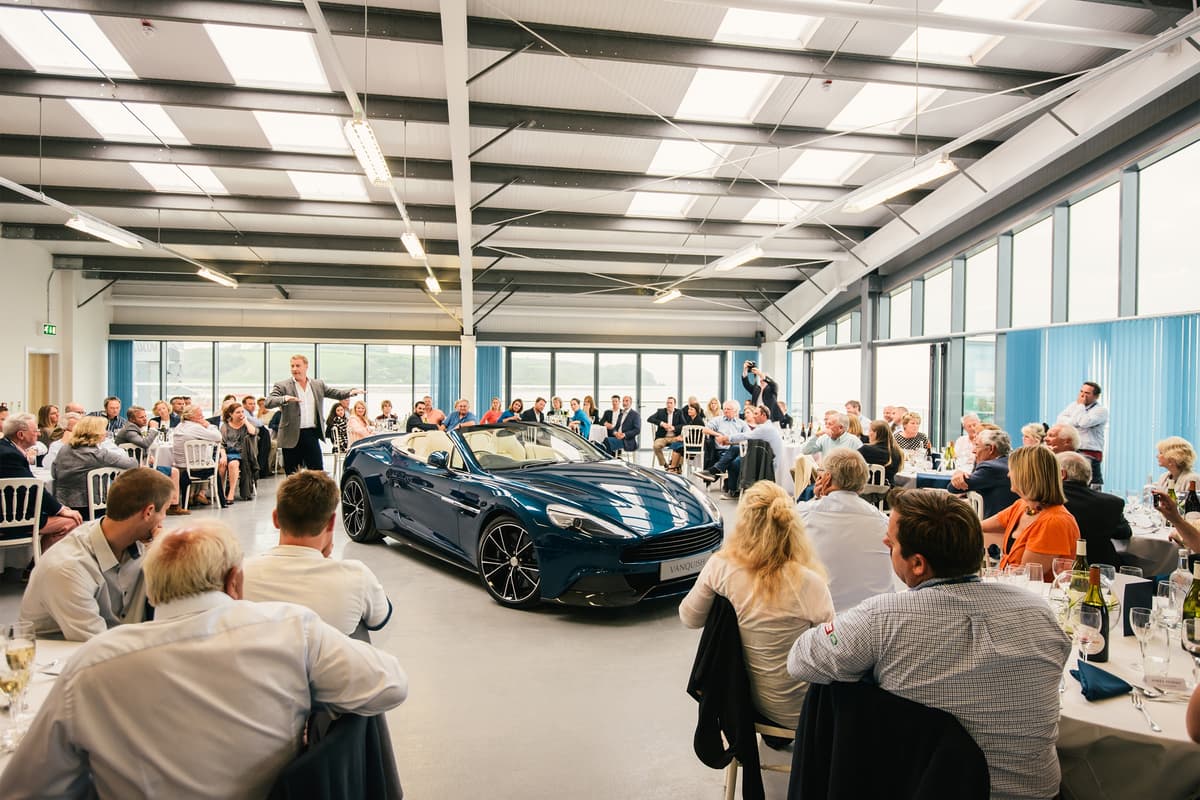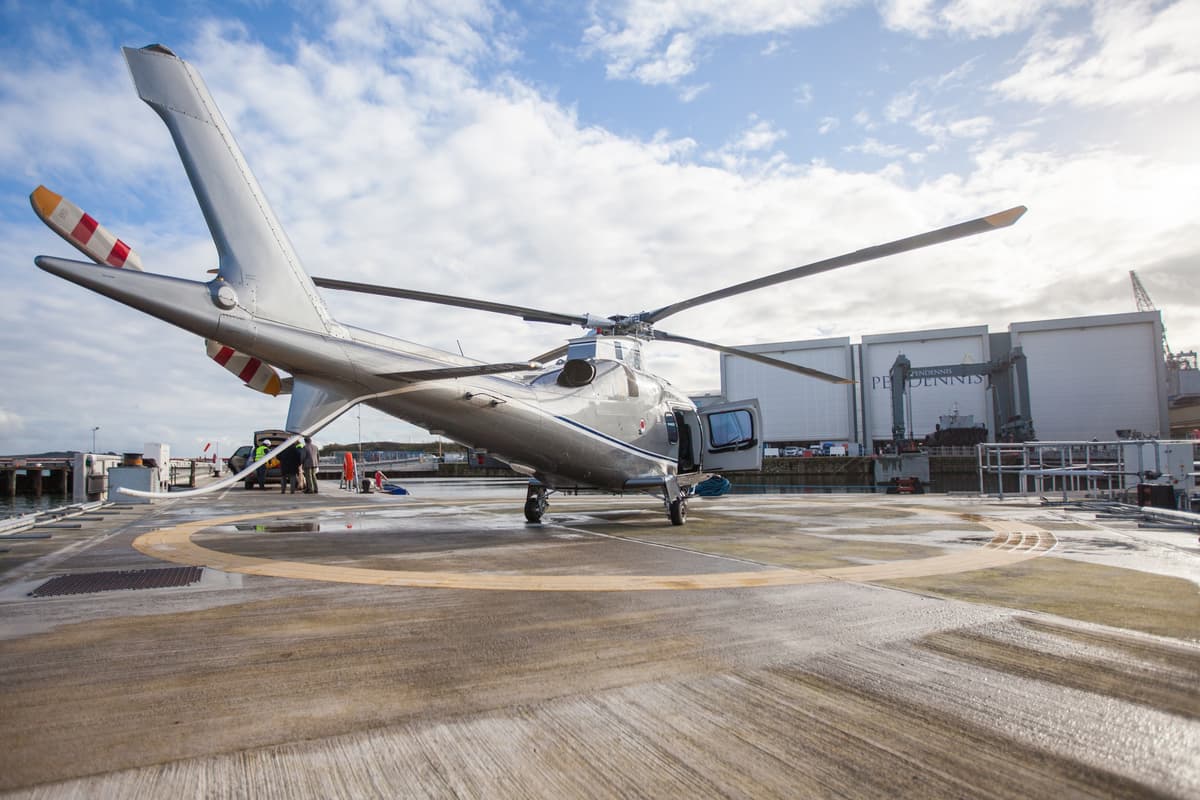 Life in Falmouth
The south west of England, and Falmouth in particular, has a maritime heritage that forms the very foundation of the town and at Pendennis we continually celebrate our Cornish sea-faring history in all that we do and create.

The outdoor lifestyle is a major draw for those looking for adventure and exploration – Cornwall boasts miles of rugged coastline with distinctive engine houses on the horizon - remnants of Cornwall's tin mining heritage, some of the UK's best surfing beaches, dedicated coast to coast cycle trails as well as secret wild swimming spots, a vibrant and friendly fitness community and the South West Coast path – a single trail that connects visitors with some of the finest coastal landscapes to be found anywhere in the world.

Falmouth is a bustling harbour town with a variety of exceptional restaurants, unique shops and a broad range of accommodation. The town's website (Welcome to Falmouth, The Spirit of The Sea | Official site) provides a huge amount of information about events, things to do, places to visit, restaurants and much more.

There is a full season of competitive harbour racing and a busy events schedule throughout the year. Highlights include the Oyster Festival and Sea Shanty Festival, and Falmouth Week, which is a regatta accompanied by shoreside entertainment and is a favourite with sailors and land-based revellers alike. A full schedule of listings can be found here: All Events Archives | Falmouth Bid
How To Find Us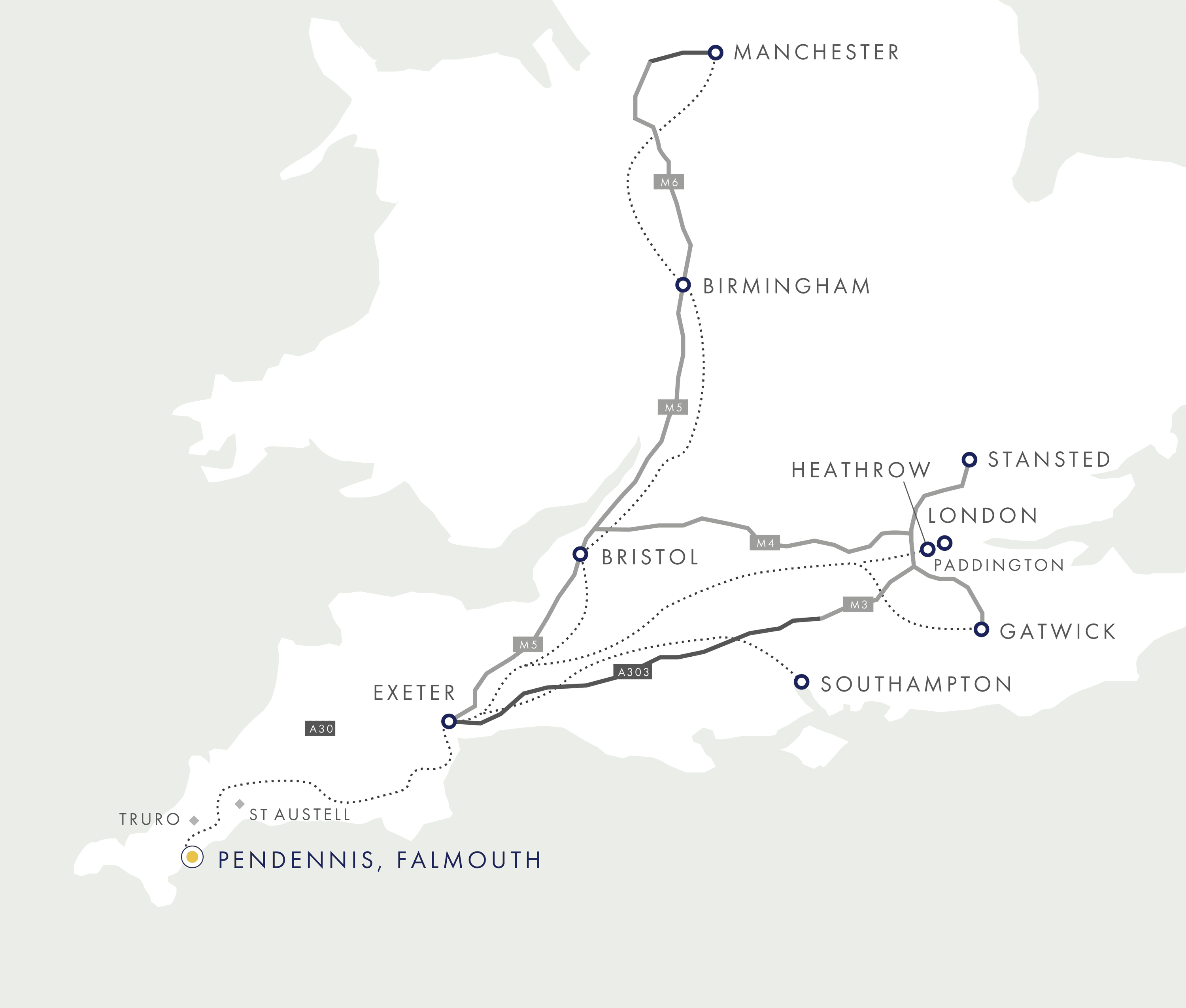 Our primary location in the South West of England benefits from fantastic natural surroundings with great transport connections to the rest of UK and Europe.

By rail

The main line out of London Paddington connects Pendennis to the capital. The journey takes approximately 5 hours and takes in some of the most breathtaking stretches of English countryside and coastline. First class, Pullman dining and an overnight sleeper option to Cornwall are available.

By road

Pendennis is a 1.5 hour drive from Exeter and 2.5 hours from Bristol. Using the M4/M5 motorways it's a 4.5 hour drive from London. All routes will bring you on to the A30 into Cornwall. Follow signs for Truro and then Falmouth.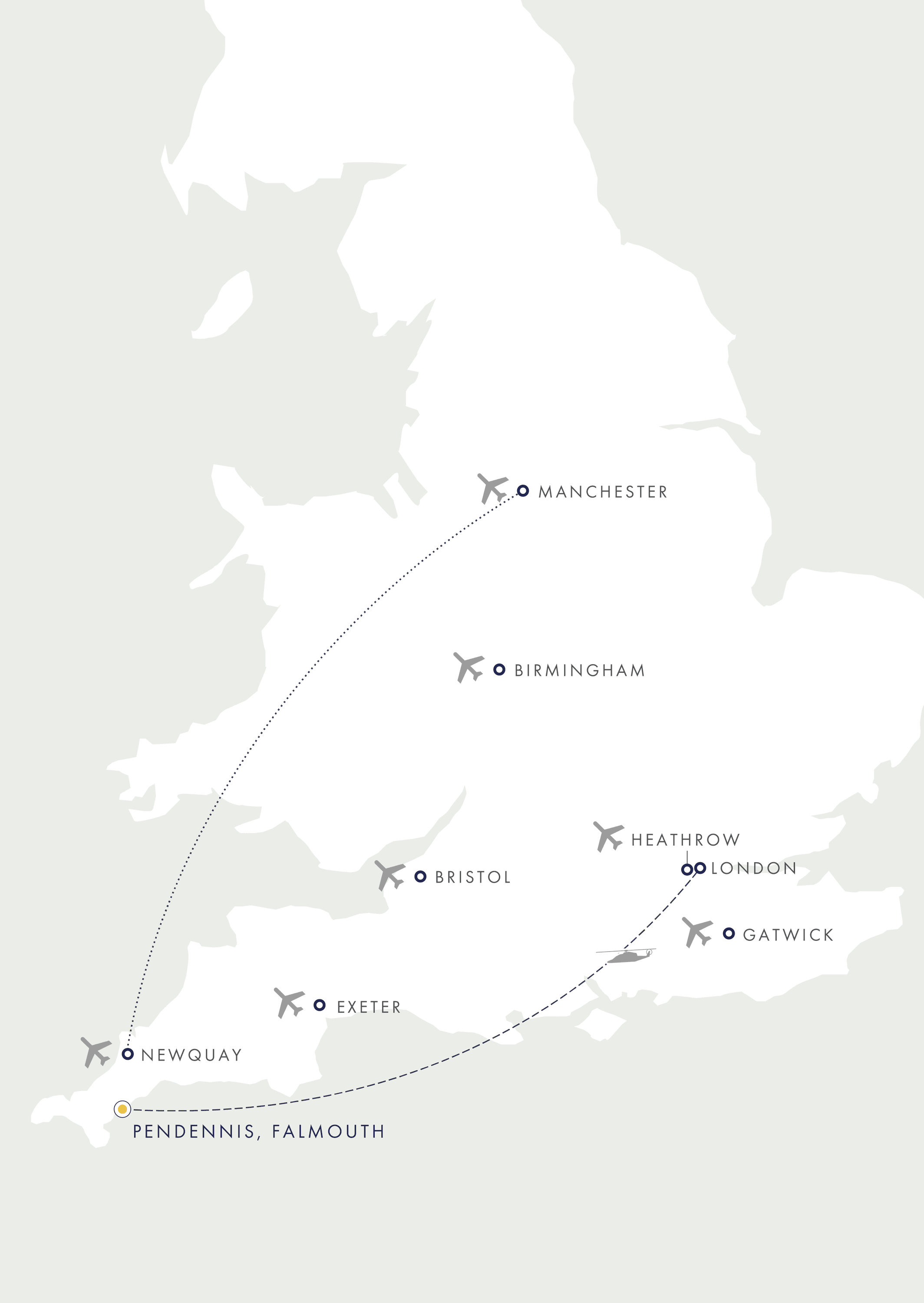 By air

We have a private helipad (LAT 50:09:25 N/LONG 5:03:11 W) providing clients with the ultimate discretion. Flight times from London to the yard are approximately two hours. Prior authorisation to land needs to be obtained - please contact beverley.hart@pendennis.com.